Quick Links to Best Prices Price History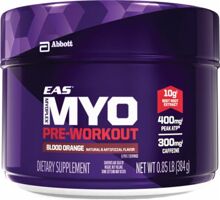 Increases Nitric Oxide and Focus for an Intense Workout*
Pre-Workout
/ 10g
Beetroot
/ 400mg
Peak ATP
/ 300mg
Caffeine
/ 3.2g
Beta-Alanine
Use and Mixing Instructions
Mix each serving with 4-6 oz of water and consume 30 minutes prior to exercise. Do not exceed two servings per day.
Intensity,
Focus &
Energy*
Performance
Boost &
Muscular Pump*
Train Harder
Train Longer*
Why Beets are important
The right amount of nitric oxide can assist in training harder and longer, and beets are a good (and natural) source of nitrate. Our EAS Myoplex Pre-Workout provides the recommended 10 grams per two servings of beetroot to help you be ready for anything at the gym.*
Based on Two Servings
Myoplex
Pre-Workout
Improved Vasodilation
400mg of nitrate to support nitric oxide production
400mg of Peak ATP to enhance blood flow to muscles*
✓
Increased Strength
2g of creatine and 3.2g of beta-alanine
to increase anaerobic power and strength and ward off fatigue during high-intensity exercise*
✓
Energy + Focus
300mg of caffeine to enhance energy and improve mental focus*
✓
This product contains NO3-T technology licensed from ThermoLife International LLC.
A Recommended Stack
For Transformative Growth
Pre-Workout: Improve Workout*
Increases nitric oxide, energy, and focusto match your determination*
Measurements reflect two servings. Two servings per day recommended.
BCAA + Electrolytes: Sustain Performance*
Provides optimal levels of amino acids and hydrating electrolytes to enhance your workout*
Whey Protein Isolate: Build Muscle*
Promotes rapid protein absorption and muscle growth*
Micellar Casein: Rest & Recover*
Provides our rest matrix and slow-digesting protein to feed your muscles while you sleep*