Warning: This product is not currently available at any store.
Click the button above and PricePlow will email you when the first store has it in stock!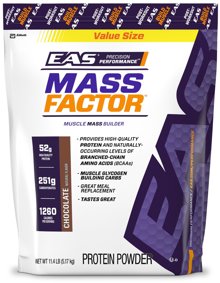 MUSCLE MASS BUILDER
52g
HIGH QUALITY PROTEIN
251g
CARBS
1260g
CALORIES PER SERVING
HOW IT WORKS
EAS Precision Performance Mass Factor is your answer to building quality mass. Providing quality protein, plenty of carbs, and naturally-occurring BCAAs, all of the hard gainers needs are met and surpassed.
52g OF HIGH QUALITY PROTEIN:

Pure whey and milk protein concentrate to create a positive nitrogen balance and set the right environment for an anabolic effect. These proteins deliver naturally-occurring levels of BCAAs.

251g OF CARBOHYDRATES:

Energy to fuel your toughest workouts.

1260 CALORIES PER SERVING:

To pack on mass you look for in a hardcore gainer.
52g
251g
11.2g
HIGH QUALITY PROTEIN
There is a constant flux inside the body between making new muscle protein and breaking down old muscle protein. In order to increase muscle size, muscle protein synthesis needs to exceed breakdown.
CARBOHYDRATES
Power up your muscle mass and energy levels with the carbohydrates packed in Mass Factor.
BRANCHED CHAIN AMINO ACIDS
Naturally-occurring BCAAs help muscles recuperate after strenuous exercise and may help reduce exercise-related muscle damage.
BUILD MUSCLE SAFELY
Certified to be tested for banned substances.