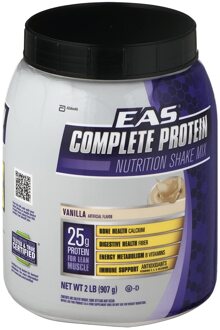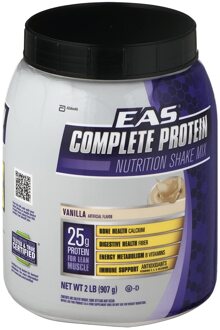 HOW IT WORKS
Every serving of EAS Complete Protein combines 25 grams of high-quality protein with vitamins and nutrients to support a healthy, active lifestyle. The powder helps build and nourish lean muscles and— unlike typical powders—delivers calcium to support bone health, fiber for digestive health, antioxidants to promote healthy immune system function, and 8 B vitamins for energy metabolism.*

EAS Complete Protein is ideal for anyone looking to supplement their diet with high-quality protein and essential vitamins and nutrients. Convenient and easy to use, you can add it to a shake, cereal, oatmeal, and more.
25G OF PROTEIN:

To help build lean muscle*

CALCIUM:

To promote bone health*

DIETARY FIBER:

To support digestive health*

8 B VITAMINS:

Supports energy and protein metabolism*

ANTIOXIDANT VITAMINS C & E, AND SELENIUM:

For immune support
THE SCIENCE INSIDE
PROTEIN
There is a constant flux inside the body between making new muscle protein and breaking down old muscle protein. In order to increase muscle size, muscle protein synthesis needs to exceed breakdown.
VITAMINS & MINERALS
Vitamins are essential micronutrients, which are also parts of a healthy diet and can have a large effect on health and well-being. Although only needed in small amounts, vitamins are important contributors to the body's daily functions and are essential to its growth and repair.* They are considered essential because the body does not produce vitamins naturally, and they must be obtained from food.
DIETARY FIBER
Fiber is a component of food that's not broken down by human enzymes and travels to the lower part of the colon. It absorbs water and contributes to healthy bowel activity.*