Warning: This product is not currently available at any store.
Click the button above and PricePlow will email you when the first store has it in stock!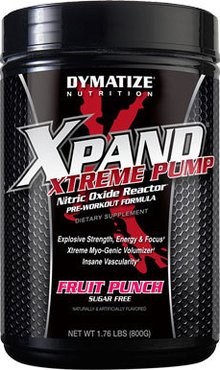 Dymatize Xpand Xtreme Pump
TAKES YOUR TRAINING TO THE NEXT LEVEL
5 GRAMS OF POWERFUL CREATINE MATRIX
MADE IN A LICENSED FACILITY
BUILDS A BETTER BODY
3.9 GRAMS OF ENERGY & MENTAL FOCUS MATRIX
A MORE EXTREME WORKOUT
Xpand Xtreme Pump gives you the energy and force that you need to pump up your muscles, expand them, and strengthen your workouts. It is the preferred choice of bodybuilders and trainers to use as a pre-workout supplement for energy, muscle recovery, and maintenance
Xpand Xtreme Pump offers some of the most well-researched nitric oxide enhancing and muscle cell expanding ingredients in one effective formula. It contains two forms of creatine compounds with three types of arginine derivatives to enhance cell nutrient uptake and help increase nitric oxide production to the blood.[1] Each scoop of Xpand Xtreme Pump contains 5 grams of a powerful creatine matrix, 5 grams of an anabolic amino acid complex, and 3.9 grams of an energy and mental focus matrix, over 5 grams of BCAAs, and 1.5 grams of beta-alanine.[2]
Xpand Xtreme Pump provides you with the best workout experience with incredible focus and power and crazy pumps like you have never experienced in the past!
References [+]
References [-]
[1] Wu G, Morris SM. Arginine metabolism: nitric oxide and beyond. Journal of Biochemistry. 1998 November 15; 336(Pt 1): 1–17.
[2] Hoffman J, et al. Effect of creatine and beta-alanine supplementation on performance and endocrine responses in strength/power athletes. International Journal of Sports Nutrition and Exercise Metabolism. 2006 Aug;16(4):430-46.
* RESULTS MAY VARY