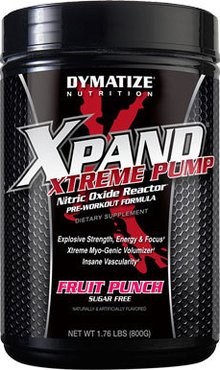 Dymatize Xpand Xtreme Pump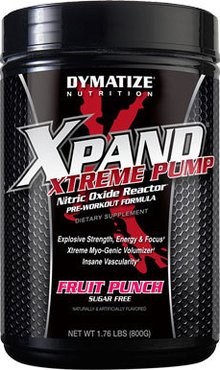 Dymatize Xpand Xtreme Pump
Xpand Xtreme Pump + Free Shaker! generates heart-pounding, blood-pumping intensity that will take your training to the next level. Xpand Xtreme's maximum nitric oxide levels generate mind blowing pumps, explosive energy and optimal nutrient uptake. The Anabolic Amino Acid Complex feeds your muscles for maximum recovery. Experience the most insane workout of your life.
One Scoop Contains:


5g Creatine Matrix

3.5g Arginine Fusion

5g Anabolic Amino Acid Complex

2.5g Beta Alanine

3.9g Energy & Mental Focus Matrix

Xpand Xtreme Pump powers through workout plateaus to provide growth like no other product. Muscle Volume increase of up to 200%, along with a massive energy rush, gets you the most complete and comprehensive growth allowable.
Nutrition Facts:
(see product images for detailed Nutrition facts)
800 Grams Blue Raspberry
Supplement Facts
Serving Size 1 Scoop(20g)
Servings Per Container 40
Amount Per Serving % DV*

Calories 6

Calories From Fat 0

Total Carbohydrates 1g 1%

Sugars 0g

Sodium 10mg 0%

Potassium 10mg 0%

Vitamin B3 (As Niacin & Niacinimide) 36mg 180%

Vitamin B6 (As Pyridoxine HCL) 17mg 850%

Folic Acid 400mcg 100%

Vitamin B12 (As Cyanocobalamin) 30mcg 500%

Vitamin C 60mg 100%

Strength & Endurance Creatine Matrix 5g **

Creatine Citrate, Creatine And Di-Creatine Malate

Vaso-Volumizing Arginine Fusion 3.5g **

Arginine A-AKG, Arginine HCL And Arginine Ketoisocaproate

Anabolic Amino Acid Complex 5g **

Taurine, L-Leucine, L-Isoleucine, L-Valine And Glutamine

Beta Alanine 2.5g **

Explosive Energy & Mental Focus Matrix 3.9g **

L-Tyrosine, Methyl Xanthines (Caffeine), Glucoronolactone, Phenylalanine, N-Acetyl L-Cystine, L-Histidine In A Blend Of Complex Carbohydrates, Hydrogen Citrate And SiO2

* Percent Daily Values are based on a 2,000 calorie diet

** Daily Value (DV) not established

Other Ingredients

MCT Oil, Natural And Artificial Flavors, Sucralose, Blue #1.
Supplement facts vary slightly for each flavor.
Directions:
Directions For Dymatize Xpand Xtreme Pump: As a dietary supplement, take 1 scoop (20g) of Xpand Xtreme Pump with 8-16 oz. of water or your favorite beverage. Due to the potent nature of this product, first time users and individuals sensitive to stimulants may take 1/2 scoop to assess tolerance.

Pre-Workout: Take 1 scoop of Xpand Xtreme Pump before your workout. Unlike other Nitric Oxide supplements, Xpand' Xtreme Pump is extremely powerful and requires only one scoop.

Non-Workout days: Take 1/2 scoop of Xpand Xtreme Pump for optimal nitric oxide levels.

Do not use this product with any other products containing caffeine or other stimulants. To avoid sleeplessness, do not take within four hours of bedtime. Only take 1 serving daily if you weigh less than 110 lbs.

Warnings: Before consuming Xpand Xtreme Pump seek advice from a health care practitioner if you are unaware of your current health condition or have any pre-existing medical condition including, but not limited to: high or low blood pressure, cardiac arrhythmia, stroke, heart, liver, or thyroid disease; anxiety, depression, seizure disorder, psychiatric disease, diabetes, pernicious anemia, difficulty urinating due to prostate enlargement, or if you are taking an MAO inhibitor or any other medication. Do not use if you are pregnant, nursing, prone to dehydration, or exposed to excessive heat. Reduce or discontinue use if sleeplessness, tremors, dizziness, nervousness, headaches, or heart palpitation occurs. Do not use if you have had a myocardial infarction (heart attack). This product contains the naturally occurring amino acid beta-alanine, which may cause a tingling skin sensation in some individuals similar to niacin flush. This effect should diminish after a few hours and should ultimately subside after days of continuous use. Although rare, individuals with the genetic disorder hyper beta-alannemia should not use this product. Xpand Xtreme Pump is only intended to be consumed by healthy adults 18-50 years of age. Keep out of reach of children and pets.

* These statements have not been evaluated by the Food and Drug Administration. This product is not intended to diagnose, treat, cure, or prevent any disease.