Warning: This product is not currently available at any store.
Click the button above and PricePlow will email you with updates from Dymatize.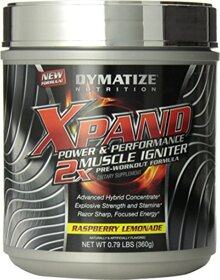 Swipe left/right to reveal product information
Xpand 2x Clinical Trial
The Ultimate Workout Experience
Introducing breakthrough muscle performance and mental focus packed in a new hybrid formula! Intense strength and pump with advanced nitric oxide generation from our unique agmatine and pomegranate extract blend. Next generation muscle aminos with CHAIN•SOL instantized BCAAs and concentrated Quercetin and B-vitamins for unrivaled stamina and razor-sharp, focused energy. All in the single most research-backed pre-performance product we've ever developed!*
Breaking Down the Science
Myo-Xpand: Provides fuel for building muscles*
Micronized Creatine Monohydrate is backed by hundreds of clinical studies to be the most efficacious form of creatine for athletes. Creatine helps support strength, endurance, faster recovery, lean body mass, and cognitive performance.*
Creatinol-O-Phosphate acts as a buffer for lactic acid, which may enhance performance, and speed up recovery time.*
Carno-Syn is the highest quality form of beta-alanine, a critical component to synthesizing muscle carnosine in the body. Beta-alanine has been demonstrated to have synergy with creatine. It is also associated with better strength, endurance, and recovery.*
Niacin and Vitamin B3 supports overall energy production and glycogen utilization and replenishment.*
Enduro-Xpand: Delivers amino acids
2:1:1 Ratio of Leucine:Isoleucine:Valine is demonstrated by research to be the most efficacious blend of branched chain amino acids. This ratio mimics the levels of BCAAs naturally found in muscle, and is the basis for all BCAA-based clinical research.*
Chain-SOL Ultra-Micronization Process of our BCAAs enable them to dissolve in cold water in seconds – no more floaters!
Taurine is an amino acid known to support cell hydration and volumization as well as support cardiac function.*
Vitamin B6 in its co-enzymated form, pyridoxal-5-phosphate, is the same active form of the vitamin found in the human body and supports enhanced amino acid metabolism.*
Sustamine enhances electrolyte and water absorption in the intestines, helps inhibit muscle protein breakdown and promotes the synthesis of muscle protein following a workout.*
Vaso-Xpand: Triggers vasodilation and muscle pumps*
Agmatine Sulfate is a decarboxylated form of arginine and helps increase nitric oxide production.*
NITRO2GRANIT is a highly potent and proprietary form of pomegranate extract standardized for nitrates which facilitate vasodilating pumps, enhance endurance and help reduce fatigue.*
AssuriTEA is a pure, water extracted form of green tea with high concentrations of polyphenols and antioxidants. Highly synergistic with NITROGRANIT and beet root extract.*
Beet Root Extract is another source or nitrates with research that indicates endurance support.*
Folic Acid is essential for the production and maintenance of new cells and facilitates the conversion of agmatine and arginine to nitric oxide.*
Focus-Xpand: Supports focus and cognitive enhancement*
Glucouronolactone (also known as DGL) is a natural metabolite in the body which has been shown to increase energy and enhance attentiveness.*
N-Acetyl Tyrosine is a more potent form of tyrosine, an amino acid that is one of the building blocks of protein. It greatly enhances mental focus and energy.*
Caffeine Anhydrous is the purest form of caffeine available. Caffeine has been demonstrated in studies to improve focus, aerobic and anaerobic performance, and metabolism.*
Rhodiola Rosea is a superstar adaptogen that aids in performance, recovery and sharper mental focus.*
Vitamin B12 in its co-enzymated form, methylcobalamin, is the same active form of the vitamin found in the human body helps prevent fatigue and supports cognitive enhancement.*
QRS Complex: Promotes endurance, recovery and clarity*
Quercetin is a flavinoid found naturally in skins of apples, berries, black tea and some leafy vegetables. As an antioxidant, it has been shown to improve circulation, aerobic endurance and aid in recovery.*
Rutin is an antioxidant that supports vascular health.*
Vitamin C is an important antioxidant involved in recovery and vasodilation.*
Frequently Asked Questions
What makes Xpand 2x better than other pre-workout supplements?
Xpand 2x is manufactured in a cGMP facility that is NSF for Sport Certified. Raw ingredients are quarantined, tested by HPLC/Mass Spec, Microbiology, etc. before being released to the state-of-the art, in-house manufacturing facilities for Xpand 2x. After Xpand 2x is run, it is quarantined and tested again before being sent out. The highest levels of quality control is undertaken to give you the confidence that you're getting everything on thelabel. Conversely, Dymatize also ensures you are not getting anything unlisted. Xpand 2x is free of any banned substances in any recognized professional and collegiate sporting bodies.
Xpand 2x was formulated to have full doses of study-backed ingredients in their best forms for bottom line results that are not just based onstimulants like so many other "pre-workouts". There are ingredients that together have hundreds to thousands of studies. Dymatize plans to take thatlevel of research one step further by doing studies on the proprietary ingredients, and the Xpand 2x with ATHLETES.
What does the 2X mean inXpand 2x? What is a "hybrid"?
2X takes on many meanings, all of which were relevant to reformulation of a trusted product like Xpand. 2X means the 2nd generation with cutting edge ingredients and the latest research to give you the best product possible. 2X also means Xpand is now half the serving size it was in its lastgeneration (10 grams vs. 20 grams), but even better now. Hybrid refers to the serving size that's in between a concentrate (around 5 grams) and atraditional pre-workout (around 20 grams). The hybrid size allows for efficacious dosing of traditional products, but the lacks the "bulk" seen in some last generation pre-workouts. Xpand 2x is better and stronger and you will become better and stronger too.
Are the ingredients in Xpand 2x research proven?
Superstars in sports nutrition research like Ultra-Micronized Creatine Monohydrate, and CarnoSyn Beta-Alanine, Branch Chain Amino Acids (CHAINŸSOLTM) are core to Xpand 2x. Further, there are rising stars as well like Creatinol-O-Phosphate, High Nitrate Pomegranate Extract (NITRO2GRANIT), AssuriTea and Agmatine Sulfate. Solidifying Xpand 2x's place as a leader in the pre-workout category, X2X will be the subjectof a number of forthcoming university studies.
What is Agmatine Sulfate?
Agmatine is decarboxylated arginine, meaning it's a derivative of the amino acid arginine. Agmatine takes active part in the polyamine pathways and has been studied for its impact on nitric oxide, reduction of inflammation, wellbeing and cognition. Agmatine has been noted to support nitric oxide (NO)production through several pathways and is becoming a popular, "go-to" ingredient for pre-workout supplementation.*
What results are typical when using Xpand 2x before a workout?
Results will vary based on diet, hydration, sleep, genetics, other supplements, protein consumption, etc. You can be assured that Xpand 2x is a results driven formulation using some of the most research-tested ingredients. University based research is currently underway on Xpand 2x to concretely state the results in strength, speed, power, muscle mass, etc. that will soon be the benchmark for the industry to follow.
When can I expect to experience the benefits of Xpand 2x?
You should see immediate and obvious benefit with every use of Xpand 2x. When you use Xpand 2x consistently over time, you should see greatlyamplified results as these nutrients are allowed to hit maximal threshold levels for maximal benefit.*
When should I take Xpand 2x?
It is best to take Xpand 2x 25-30 minutes prior to your performance/workout. Also, be sure to drink plenty of fluids to stay hydrated during and afterperformance. You can take Xpand on non-performance days and we recommend using Xpand 2x at least 4 times a week to maintain maximal benefits.
How much Xpand 2x should I take?
Pre-workout recommendations for Xpand 2x are based on a flexible serving system that allows you to customize how much Xpand 2x you use based on your size, experience with the product and your workout. For instance, you may have a light workout with cardio or an intense session with weights. Your workout may be early in the morning or later in the evening. With Xpand 2x you can dial in the perfect serving number for YOU and YOUR WORKOUT. As with any supplement, especially one with energy or focus support nutrients, it is best to assess your tolerance by starting with the lowest serving recommendation and working your way up over the course of several workouts to find what dose is best for you.
What is the caffeine content of Xpand 2x?
Xpand 2x Pre-Workout Formula allows for flexible servings, so the caffeine content will vary based on the number of scoops you use. There is 125mg of caffeine per scoop and the recommended use ranges from 1-3 scoops depending on your size, training intensity, tolerance and duration. Note: If you are sensitive to caffeine you can use our Caffeine-Free Xpand 2x.
What other products can I take with Xpand 2x (What can I stack with Xpand 2x)?
For best results take Elite Recoup for BCAAs intra-workout and ISO·100 post-workout.