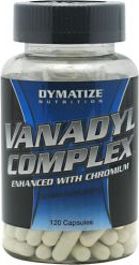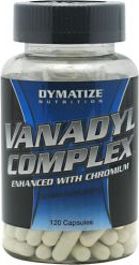 Description:
Vanadyl, the micro-mineral derived from Vanadium, has been shown effective in helping to increase Insulin sensitivity. The main advantages of increased Insulin sensitivity are that it could promote less fat storage as well as that it may act as an Amino Acid magnet to cells.
Nutrition Facts:
Serving Size (Caps) 1
Servings Per 120
Vanadyl Sulfate 10mg
Chromium Picolinate 100mvg
Suggested Use:
Take 1 to 2 capsules 5 minutes before protein and carbohydrate-rich meals; not to exceed the recommended capsules per day. For optimum results, take 2 capsules within 1 hour of workout accompanied by a meal.
Warnings:
Consult with a physician prior to any dietary supplementation. Do not use if you have a history of low blood sugar. Diabetics may use only under a physicians supervision. Do not use if pregnant of lactating.
KEEP OUT OF REACH OF CHILDREN. These statements have not been evaluated by the Food and Drug Administration (FDA). This product is not intended to diagnose, treat, cure or prevent any disease."