Quick Links to Best Prices Price History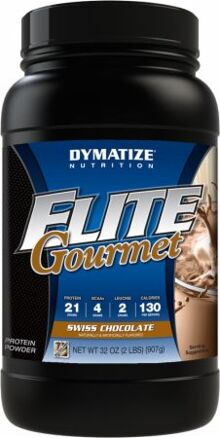 The Most Delicious Protein from the Finest Sources
Award Winning Taste
Instant Mixability
No Added Sucrose, Fillers, Maltodextrin, or Aspartame
Elite Gourmet is the perfect blend of Ion-Exchange Whey Protein Concentrates, Whey Protein Isolates, and Whey Peptides, combined with Milk Protein rich in natural micellar caseines & caseinates plus added calcium caseinates. By combining these extraordinary and top quality protein sources, Elite Gourmet satisfies your taste buds & your protein diet needs in one delicious shake.*
Each serving of Elite Gourmet is derived from only the finest protein sources. Sources with both ultra high PER (Protein Efficiency Ratios) and the most modern protein scale, the PDCAAS (Protein Digestibility Corrected Amino Acid Score). On the PDCAAS Scale, the protein sources used in Elite Gourmet all score at least a 1.0 – a perfect score. PDCAAS are the preferred and best method of protein quality evaluation according to the US FDA, the Food and Agricultural Organization of the United Nations and the World Health Organization.
Elite Gourmet Protein also contains high levels of glutamine and glutamine peptides as well as substantial amounts of Essential and Non-Essential Amino Acids, including the Branched Chain Amino Acids.
Dymatize Elite Gourmet Protein is designed to be the ultimate high performance muscle fuel with an Award Winning Taste! Elite Gourmet Whey Protein packs a massive 21g of protein per serving, mixes easily and has a fantastic amino acid profile.
Elite Gourmet Whey is a combination of Whey protein (Concentrate and Isolate) and a proprietary Milk protein matrix containing both Micelular Caseines and Caseinates. These perfect scoring proteins have been combined with a flavor and texture profile beyond belief and truly worthy of the "Gourmet" name.
With Elite Gourmet, you can have it all. You get the finest proteins sources combined with the best flavor.