Quick Links to Best Prices Price History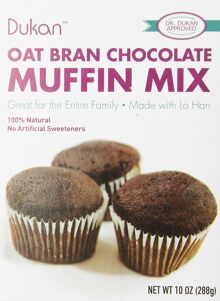 Dukan Diet Oat Bran Muffin Mix
Dukan Diet Oat Bran Muffin Mix Chocolate Description
Great for the Entire Family
One Muffin = 2 Tbsp of M2bisB6 Oat Bran
Made with Lo Han Sugar Substitute
100% Natural
No Artificial Sweeteners
Dr. Dukan Approved
Dukan Diet Oat Bran Chocolate Muffin Mix is:
• A great source of fiber
• Helpful in fighting cravings
• A delicious & healthy snack to take on the go
• Made with Lo Han, a natural, diet-friendly sweetener made from monk fruit
Directions


1 package muffin mix - yields 12 muffins

1 egg white

1 large or extra-large whole egg

1-1/3 cups of water

6 oz serving (3/4 cup) of nonfat Greek yogurt

Pre-heat oven to 350 F. In a medium-sized mixing bowl, combine muffin mix with yogurt and water. In a separate bowl, whisk eggs for one minute until well beaten, add to the muffin mix, blend well. Spoon the batter into a nonstick muffin pan or line with paper cups. Bake for 18-20 minutes.

Note: Oven temperatures may vary; do not over bake or muffins can become dry. Refrigerate leftovers for up to 3 days in a sealed container. Muffins will keep for up to 2 months if frozen. To defrost, place them in your fridge overnight. When ready to eat, microwave for 15 seconds.
Free OfArtificial sweeteners.