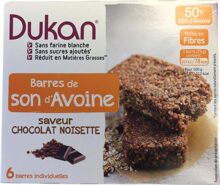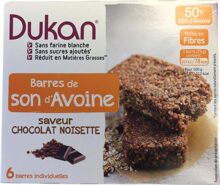 Dukan Diet Oat Bran Bars Coconut Almond with Stevia Description
Dr. Dukan Approved
Get Your Daily Oat Bran in a Convenient, On-the-Go Snack!
1 Bar = 2 Tbsp of Oat Bran
The Benefits of Bran
• Creates a feeling of fullness
• Provides a good source of fiber
• Aids digestion
A great healthy snack for the whole family!
Get Active!
A healthy diet that includes oat bran, when combined with regular exercise, can help with weight management.
M2bisB6 Grade oat Bran
Proprietary Milling and Sifting to Bring Out the Best in Each Grain of Oat.
Directions


Recommendation for each phase

To be consumed along with a glass of water

Attack - 0 Bars

Cruise - 1 Bar

Consolidation - 1 Bar

Stabilization - 1½ Bars

1 Bar = 2 Tablespoons of Oat Bran
Disclaimer These statements have not been evaluated by the FDA. These products are not intended to diagnose, treat, cure, or prevent any disease.
Nutrition Facts