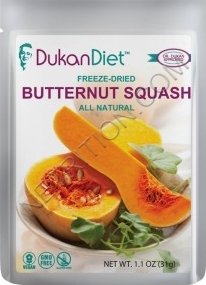 Dukan Diet Butternut Squash, Freeze Dried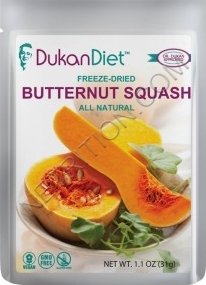 Dukan Diet Butternut Squash, Freeze Dried
Dukan Diet Freeze-Dried Butternut Squash Description
All Natural
Dr. Dukan Approved
Convenient On-the-Go Package
Great for Travel!
Vegan • GMO Free • Gluten Free
100% natural butternut squash made without additives or preservatives - is a healthy, low-calorie, flavorful snack with a crunchy, crispy texture dieters crave!
The Freeze-dried Process
Freshly cut butternut squash pieces are quickly frozen at temperatures as low as 85 F, preserving nutrients, flavor, shape and color. The ice is evaporated to remove up to 98% of the moisture. Pieces are then sealed in moisture and oxygen-proof packaging to ensure freshness until opened.
Freeze-Dried vs. Dehydrated
Freeze-dried vegetables are healthier, better tasting, lower in calories and sugars, and have a longer shelf life. Dehydrated vegetables tend to be chewy while freeze-dried are crunchy.
Directions
Dukan Diet Butternut Squash can be used in snack mixes, salads, soups, yogurts or smoothies.
Free Of GMO and gluten. Disclaimer These statements have not been evaluated by the FDA. These products are not intended to diagnose, treat, cure, or prevent any disease.