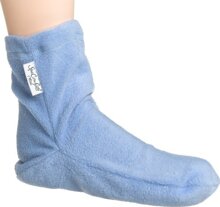 Dreamtime Spa Socks - Microwavable Socks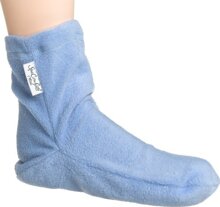 Dreamtime Spa Socks - Microwavable Socks
Spa Socks - Microwavable Socks Description from Dreamtime
-Soothes sore and tired feet

-Microwavable for heat therapy

-Freezable for cold therapy

-Natural plant herbs of cinnamon, clove and eucalyptus for true aromatherapy that lasts for years

Spa Girl says, "For feet that go that extra mile, we've found the perfect 'sole mate.' Whether it's the wrap-up to a deep moisturizing pedicure or just an evening of putting your feet up, spa socks release nuturing heat to soothe tired toes and achy arches. Pop them in the microwave and swaddle your feet in wonderful warmth and the soothing scents of cinnamon, clove and eucalyptus. Relief and rejuvenation from the group up? Sock it to me!"

M-L Fits Women size 8 1/2 and up and Fits Men size 8-12.
Manufacturer's Directions
Warm Use: Microwave in 30 second intervals until desired temperature is achieved. Test temperature before using. Socks should feel warm, not hot. Never leave unattended in microwave.

To Wash: Outer socks machine wash & dry. Do not wash grain packs.