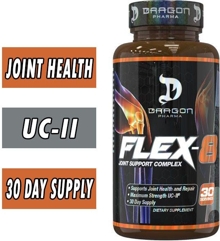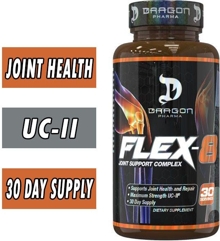 JOINT SUPPORT COMPLEX
ADVANCED TENDON, CARTILAGE, AND JOINT REPAIR
SUPERIOR JOINT, LIGAMENT, TENDON, AND CARTILAGE REPAIR
MAINTAINS JOINT FUNCTIONS
INCREASES ELASTICITY AND FLEXIBILITY
SUPPORTS JOINT, TENDON, AND CARTILAGE POST WORKOUT RECOVERY
FULLY DOSED AND MAX ABSORPTION TECHNOLOGY FOR MAXIMAL RESULTS
Dragon Pharma Labs new FLEX-8 is the only premium-grade joint health supplement for men and women with researched proven ingredients for joint and tendon health, joint mobility, and repair.
FLEX-8 contains eight powerful, high-grade ingredients (Cissus Quadrangularis, Boswellia Serrata Extract, Turmeric Root Extract, Bamboo Shoot Extract, SAMe, Sodium Hyaluronate, UC-II Standardized Cartilage, and Black Pepper Extract) to reduce inflammation and repair joints and tendons.
UC-II is one of the main constituents of FLEX-8; it contains a patented form of undenatured type II collagen (i.e., the collagen is not processed by high heat or chemicals).
FLEX-8 is fully dosed, all-in-one, once a day formula which unlike other joint formulas which need to be taken several times a day. Start strengthening your joints today to prevent future deterioration and preserve your joints for tomorrow.
If your joints hurt, you won't be able to train at your peak, and the downward spiral occurs. Maximum results in performance and your physique can only be achieved with healthy tendons, cartilage, and joints. If your joints are not operating at their peak capacity, your muscle's ability to lift heavy weights and perform intense exercise becomes compromised, and decreases in muscle strength and muscle size are sure to follow!
Dragon Pharma has never been a company that follows the crowd; our products are formulated with the latest research in mind. Most of the joint supplements contain Glucosamine and Chondroitin as their main ingredient and here is why Flex-8 doesn't contain Glucosamine nor Chondroitin.
Most studies assessing their effectiveness show small to no improvement compared with placebo in either pain relief or joint damage.
The most compelling long-term study looked at the combination of glucosamine and chondroitin, both supplements individually, against the prescription anti-inflammatory Celebrex, and placebo in patients with knee osteoarthritis. At the end of the study, the combination of glucosamine and chondroitin failed to prevent joint damage caused by osteoarthritis compared to a placebo. After a total of two years, the supplements in combination or alone had no greater benefit in knee pain relief than celecoxib or placebo.
The Dangers of NSAIDS
Ibuprofen is a commonly used non-steroidal anti-inflammatory drug (NSAID). The use of NSAIDs has been marketed to athletes for decades as a way to reduce pain and inflammation.
NSAIDs work by inhibiting cyclooxygenase (COX) enzymes, which are responsible for the formation of prostaglandins. Thus, by inhibiting COX, ibuprofen and NSAIDs reduces pain and inflammation; however, the COX enzymes are also involved in some of the processes that mediate skeletal muscle growth and protein synthesis. Specifically, NSAIDs can inhibit satellite cell activation, which is essential for muscle growth.
Multiple acute studies have shown that NSAIDs inhibit the muscle protein synthesis response to training. Therefore, athletes and hardcore bodybuilders need to find an alternative to this dangerous muscle growth inhibiting agent.
FLEX-8 contains ingredients that work similar to NSAIDs but have no dangerous side effects such as gastrointestinal bleeding or have no muscle growth blunting effects as NSAIDs.
Scientific Review of FLEX-8 Ingredients:
Cissus Quadrangularis (20% ketosteroids)- 125 mg
Cissus Quadrangularis has been used for ages in Ayurvedic medicine to heal broken bones injured ligaments and tendons. Furthermore, in addition to its benefit on joint health; studies have shown that it regulates hormones, helps weight control, and also improves blood health
One unique trait of Cissus is its ability to boost collagen synthesis. Collagen is the main component of connective tissue and the most abundant protein in humans. Collagen synthesis (mRNA levels) appears to be increased with Cissus Quadrangularis, to the degree of 85-106% over baseline.

Boswellia Serrata Extract(65% Beta-Boswellic Acids)- 125 mg
Boswellia supplementation can suppress pain and immobility associated with osteoarthritis. Two studies have reported that patients with osteoarthritis of the knee receiving Boswellia reported a decrease in knee pain, increased joint mobility, and increased walking distance. Furthermore, another study reported that patients taking 125 mg of Boswellia Serrata had a significant reduction in pain.
Turmeric Root Extract (Curcumin 95%) - 150 mg
Curcumin is a compound found in turmeric. Curcumin 95% is the optimal ingredient for beneficial antioxidant, anti-inflammatory, anti-diabetic, and anti-cancer effects. There have been more than 5,000 scientific studies have focused on curcumin. Its primary biological effects related to its action as a broad-spectrum antioxidant and profound anti-inflammatory agent.
S-Adenosylmethionine (SAMe)- 100 mg
SAMe, which is short for S-adenosyl-L-methionine, is a compound found naturally in the body and helps produce and regulate hormones and maintain cell membranes. SAMe affects cellular function. SAMe works closely with vitamins B-12, B-6, and folate, so it is essential to get enough of the B vitamins when taking this supplement.
Sodium Hyaluronate- 150 mg
Hyaluronic acid is a naturally occurring compound that helps keep water within the skin and joints. Hyaluronic acid is present in the synovial fluid of joints. Hyaluronic acid acts like "joint oil." Hyaluronic acid creates a viscous, cushioning environment for joint cartilage, preventing friction from damaging these hard-working tissues. Ensuring optimal levels of hyaluronic acid is thus crucial to healthy joint function. Supplemental hyaluronic acid appears to stimulate the body's generation of new hyaluronic acid, while alleviating pain and inflammation. Hyaluronic acid also appears to regenerate cartilage as well.
Bamboo Shoot Extract- (70% Soluble Silica)- 50 mg
The extracts of Bamboo shoots have been used in Indian folk medicine to treat various inflammatory conditions. Bamboo shoots have immense potential of being used as important health food as they contain high proteins, amino acids, carbohydrates, many important minerals, and vitamins, and flavonoids.
UC-II Standardized Cartilage (Providing 10 mg Undenatured Type II)- 40 mg
UC-II is one of the main constituents of FLEX-8; it contains a patented form of undenatured type II collagen (i.e., the collagen is not processed by high heat or chemicals). Based on clinical studies, the undenatured collagen in UC-II differs from hydrolyzed or denatured collagen because it contains active immune modulators that reduce the secretion of enzymes that break down type II collagen, thereby slowing the inflammatory response.
UC·II More Than Twice as Effective as Glucosamine and Chondroitin
In a randomized, double-blind study of 52 osteoarthritis patients, one group took 40 mg UC·II and the other a combination of 1500 mg glucosamine and 1200 mg chondroitin. (Double-blind means neither the study subjects nor those tracking the results knew which patients were receiving which doses.) At the conclusion of the 180-day trial period, UC·II had a greater reduction in pain, stiffness, and physical fitness compared to placebo and glucosamine and chondroitin. The UC-II group experienced a 41% reduction in pain, a 40% reduction in stiffness, and a 39% reduction in physical function.
Black Pepper Extract (95% Piperine) – 10 mg

A standardized extract from the fruit of Piper nigrum L (black pepper) is clinically proven to enhance the oral bioavailability and improves the gastrointestinal absorption and systemic utilization of nutrients. of other co-ingested compounds. This significantly increases the effectiveness of the FLEX-8 formula.
As a dietary supplement, take 1 capsule per day with food.