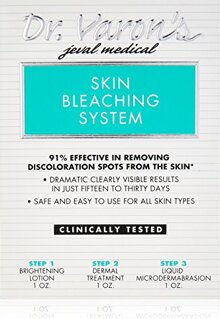 Dr. Varon's Skin Bleaching System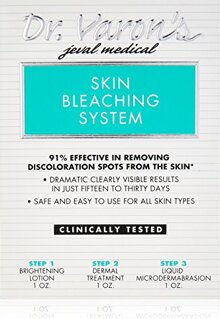 Dr. Varon's Skin Bleaching System
91% effective in removing discoloration spots from the skin. (Double Blind Study 1997)
Dramatic clearly visible results in just fifteen to thirty days.
Safe and easy to use for all skin types
Clinically Tested.
Dr. Varon's Skin Bleaching System
is the first and only skin care system to remove blemishes and dark discolorations from the skin. During the first 15 days your skin will experience intensive exfoliation as part of the fading process. Flaking and dry patches may appear on the skin indicating the skin's adjustment to the formula. Within 15 to 30 days of use, fine lines as well as age spots begin to dissipate or "melt away" while your skin takes on a healthy glow.
Guarantee:
We are certain you will have the same amazing results as the thousands of consumers who have already purchased Dr. Varon's Chemical Peel System on TV. Should you not be pleased, just return unused portion, with your purchase receipt and UPC code to: Jeval Laboratories LTD. 175 Washington Ave. Dumont, NJ 07628 and your full purchase price will be refunded.
Formulated by Jacob Varon, MD, Board Certified Cosmetic Plastic Surgeon. Chief of Plastic Surgery, Medical Center Hospital, Houston, TX. National Lecturer on Plastic Surgery. Guest on many national television and radio programs.
Kits Includes:
Step 1 Brightening Lotion (1 oz.)
Step 2 Dermal Treatment (1 oz.)
Step 3  Liquid Microdermabrasion (1 oz.)
Active Ingredients:
Hydroquinone (2%) Purpose: Bleach
FOR EXTERNAL USE ONLY:
Avoid contact with eyes
Some users of this product may experience a mild irritation or temporary skin darkening. If no improvement after 3 months, discontinue us.
Do not use on children under 12 unless directed by a doctor.
Stop use and ask a doctor if skin irritation or darkening persists.KEEP OUT OF REACH OF CHILDREN:
In case of accidental ingestion, get professional assistance, or contact a poison control center immediately.
* These statements have not been evaluated by the Food and Drug Administration. This product is not intended to diagnose, treat, cure, or prevent any disease.