Warning: This product is not currently available at any store.
Click the button above and PricePlow will email you when the first store has it in stock!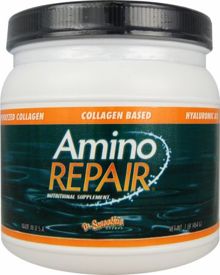 Dr. Smoothie Amino Repair
Amino Repair is a formulation, containing Hydrolyzed Collagen, hyaluronic acid, a synergistic blend of targeted aminos and other supplements that promote connective tissue, joint and skin health.*
With 70% of connective tissue comprised of collagen, our body demands the proper protein/amino profile that only Amino Repair can deliver.
As a result of continued strenuous exercise, training, physical activity and age, the levels of important amino acids needed to manufacture collagen can become depleted. The solution? Amino Repair.*
The solution? Amino Repair™*
Amino Repair contains the essential building materials needed for connective tissue, cartilage & skin health and hydration.* Please read below for the exciting positive attributes of the ingredients in Amino Repair.
Changes blood plasma amino profile for optimum cartilage growth.*
Used to promote joint health, nourish ligaments, tendons, cartilage, surrounding connective tissue and skin.*
Skin tone - Amino Repair helps support skin strength, texture, as well as thickness.*
Rapid absorption due to low molecular weight.*
High compliance due to ease of use, neutral taste and once a day regimen.
Hydrolyzed Collagen
Collagen Hydrolysate has been suggested to change the amino acid profile in blood plasma resulting in increased glycine, proline and hydroxyproline, all necessary aminos in the growth of connective tissue and cartilage.*
Its amino acid composition corresponds to that of the cartilage matrix as opposed to other proteins, thereby acting as a "customized" building block for the synthesis activity of the chondrocytes. Collagen Hydrolysate has been surmised as having a positive effect on chondrocyte metabolism (cartilage growth) and the stability of the cartilage matrix.*
This specially manufactured hydrolyzed collagen has been broken down into smaller particles by enzymes, making it easier for our body to absorb and digest the protein.*
Hyaluronic Acid
Acts to increase the effectiveness of collagen.* It plays a vital role in tissue hydration and a fundamental role in tissue health. It also provides the benefit of moisturizing skin.* Combined with collagen, hyaluronic acid gives skin strength and texture as well as an inherent ability to retain moisture.*
L-Glutamine
Promotes protein synthesis, maintains hydration, supports the immune system and promotes the benefits of collagen.* L-Glutamine is key in the digestive process as it serves as a source of fuel for cells lining the intestines and balances the acid/alkaline level in the body.* L-Glutamine is the basis for building blocks of RNA & DNA.
Lysine
Plays an important role in the formation of collagen. Lysine is a necessary building block for all protein in the body, and plays a major role in building muscle protein.
Grape Seed Extract
A high powered antioxidant, containing high levels of polyphenols.
Ascorbic Acid (Vitamin C)
Essential for the formation of collagen; important for the health of body tissue and maintenance of healthy skin.