Quick Links to Our Prices Price History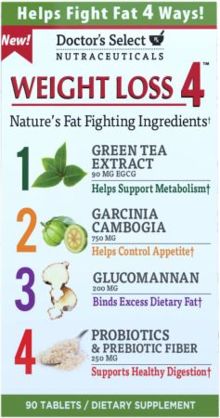 Doctor's Select Nutraceuticals Weight Loss 4
Doctor's Select WEIGHT LOSS 4 delivers the key, breakthrough weight loss ingredients you've been reading and hearing about in one, convenient supplement. Doctor's Select WEIGHT LOSS 4 removes the confusion of how you can benefit from the latest medical and nutritional discoveries to increase the metabolism, help burn body fat, satisfy hunger and reduce the body's use of carb calories.*
Green Tea Extract
Green Tea is made from the leaves from Camellia sinensis, which have undergone minimal oxidation during processing. Originally from China, green tea has achieved worldwide fame for its many health benefits. EGCG, the active ingredient in green tea, has been scientifically shown to help your weight loss program by shifting your fat-fighting metabolism into high gear.*
Garcinia Cambogia Extract
Garcinia Cambogia (HCA) Garcinia Cambogia contains Hydroxycitric Acid and has been consumed and found in India, Southeast Asia, and Polynesia for centuries.
Glucomannan
Glucomannan is made from the Konjac root, also known as konnyaku. This water-soluble fiber has been cultivated as a weight management aid in Japan for generations. When taken with water, glucomannan expands in your stomach, forming a gel that can help you to feel fuller faster. In laboratory studies, glucomannan has been shown to bind to 50 times its weight of dietary fat.
Probiotics & Prebiotic Fiber
Inulin and Bacillus coagulans.