Quick Links to Best Prices Price History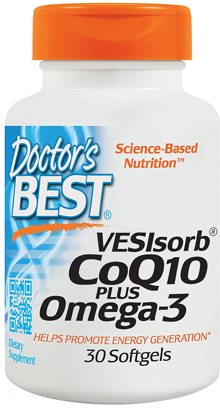 Doctor's Best VESIsorb CoQ10 Plus Omega-3
Doctor's Best VESIsorb CoQ10 Plus Omega-3 Description
Nano-Colloid Bioavailability Breakthrough
Up to 600% Better Absorption
Achieves Superior CoQ10 & Omega-3 Blood Levels over Other Formulations
Facilitates Energy Generation, Antioxidant Protection, Cell Membrane Performance
Supports Wellness Via the Heart, Brain, Muscles, Immune System, Joints & Other Organs
CoQ10 and the Omega-3 fatty acids DHA and EPA are vitamin-like nutrients with clinically proven benefits. This CoQsource preparation with its patented VESIsorb delivery system is the pinnacle of efficient nutrient delivery. Through its naturally self-assembling nano-colloid delivery system, VESIsorb amplifies the measurable blood levels of these nutrients. All three are building blocks for the cell membrane systems that generate energy and manage metabolism.
Directions
Take 1 softgel per day, preferably with a small meal. Higher intakes may be beneficial, as recommended by a nutritionally-informed physician.
Free OfAnything other than the listed ingredinets.DisclaimerThese statements have not been evaluated by the FDA. These products are not intended to diagnose, treat, cure, or prevent any disease.