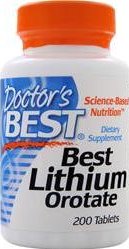 Doctor's Best Best Lithium Orotate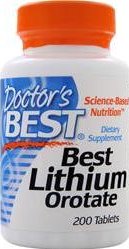 Doctor's Best Best Lithium Orotate
Suitable for Vegetarians
Science-based nutrition
Dietary supplement
Best Lithium Orotate contains the trace mineral
lithium in the supplemental orotate form. Lithium is a naturally occurring trace mineral found in several foods, with the primary sources including certain whole grains and vegetables. Lithium is present in organs and systems throughout the body and may play an important biological role in humans and other animals.
Supplement Facts:
Serving Size: 1 tablet
Servings per container: 200 servings
Amount Per Serving
Lithium 5mg
(from 125 mg of lithium orotate)
Other Ingredients: Cellulose, magnesium stearate (vegetable source), silicon dioxide, croscarmellose sodium.
Suggested Use: Take 1 tablet per day with food, or as directed by a nutritionally informed physician.
Warnings: Keep out of reach of children. Not intended for use by females or males under 21 years of age. Consult your physician before using this or any dietary supplement. Do not take if you are pregnant or breast feeding, elderly or under the age of 21, chronically ill, or taking any perscription or over-the-counter medicine, including but not limited to medications for high blood pressure or other cardiovascular conditions. Discontinue use if you experience dizziness, headache, nausea or heart palpitations.
These statements have not been evaluated by the Food and Drug Administration. This product is not intended to diagnose, treat, cure, or prevent any disease.