Quick Links to Best Prices Price History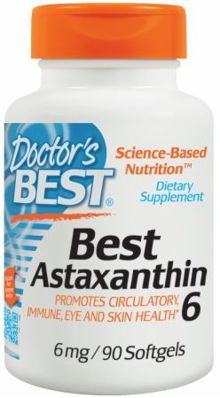 Doctor's Best Best Astaxanthin
Astaxanthin is a powerful, versatile, and naturally occurring antioxidant found in nature that contributes to circulatory, immune, skin, and eye health through its unique ability to penetrate the blood-brain and blood retina barriers.* This antioxidant's unique ability to penetrate through these obstacles allows the nutrient to directly impact issues related to the brain and central nervous system. Supplementation with Astaxanthin is vital for general wellbeing as this antioxidant and free radical scavenger cannot be synthesized by humans and must be provided in the diet. With a vast range of health benefits, supplementation with Astaxanthin provides a simple and effective way to improve your life, naturally.*
What Does it Do, and How?
Promotes circulatory, immune, skin and eye health
by crossing the blood-brain and blood-retina
barriers and directly impacting the brain and
central nervous system.*
Product Attributes
Trademarked ingredient supported by human
clinical trials and provided at clinical dosages
Powerful, natural antioxidant found in nature.*
Non GMO and Gluten free.