Quick Links to Best Prices Price History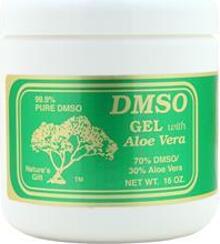 DMSO DMSO Gel with Aloe Vera
DMSO Gel with Aloe Vera - 70%/30% Description from DMSO
99.9% Pure DMSO. 70% DMSO/30% Aloe vera. Nature's Gift.
Manufacturer's Disclaimer
May cause skin irritation. Avoid contact with eyes, skin, clothing. Wash thoroughly after handling. In case of eye contact, immediately flush eyes with water. Call a physician.

This product is intended for use as a solvent only. The choice of the process used in the various applications is the sole responsibility of the user. It is unlawful to represent in any way that this product is useful or safe to use for medicinal purposes. Keep out of reach of children.