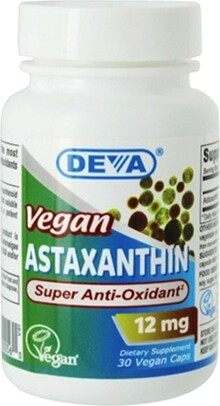 Deva Nutrition Vegan Astaxanthin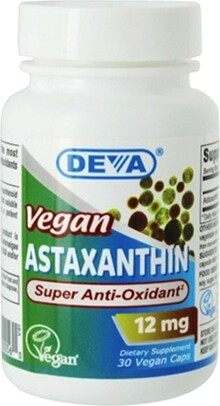 Deva Nutrition Vegan Astaxanthin
Astaxanthin is one of the most powerful antioxidants yet discovered.
Astaxanthin is one of a group of natural pigments known as carotenoids. In nature, carotenoids are produced principally by plants and their microscopic relatives. Animals cannot synthesize carotenoids and thus all natural carotenoids are first made in plants. As an antioxidant, astaxanthin is suggested to be up to 500 times more powerful than Vitamin E and more than 10 times as powerful as beta-carotene.* As an antioxidant, astaxanthin was shown in ORAC testing to be over 4 times more potent than Lutein.* A variety of scientific studies suggest health-supporting benefits from astaxanthin.* Because astaxanthin freely crosses the blood-brain and blood-retina barriers, astaxanthin may help neutralize free-radicals in the eye and nervous system.*
Astaxanthin used in this product is from a natural source: microalgae Haematococcus pluvialis, grown in closed culture. Extraction of astaxanthin from the algal biomass is done by CO2 extraction and without the use of harsh solvents. Our Vegan Astaxanthin has 4 mg of astaxanthin per vegan capsule, which is many times stronger than a lot of astaxanthin products sold on the market.
DEVA Vegan Astaxanthin is 100% animal free, and guaranteed for purity, freshness and labeled potency. Remember all DEVA Products are 100% vegan, vegetarian and are certified by the Vegan Society, the non-profit organization that actually invented the word "vegan".