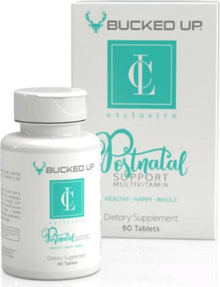 DAS Labs Bumped Up Postnatal Support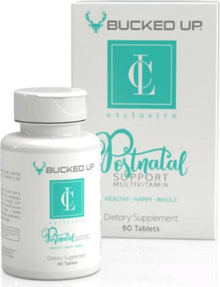 DAS Labs Bumped Up Postnatal Support
Bumped Up Postnatal Support Multivitamin 60 Tabs | Lactation Support
Bumped Up is a spin-off of the hardcore supplement line bucked. This line began with the Bumped Up Pre Workout and has quickly expanded to other supplements for pregnant women and new moms. Bumped Up Postnatal Multivitamin is loaded with 7 different staples which help support lactation and are made to stimulate the production of breast milk. If you want avoid having to switch to formula because your breast milk production can't keep up with your growing baby grab yourself a bottle of Bumped Up Postnatal.
Bumped Up Postnatal Multivitamin Product Highlights
Packed w/ 7 Staples for Lactation Support
Helps Stimulate Breast Milk Production
Postnatal Support Multivitamin
Manufactured in the USA
Vegan & Vegetarian Formula
All Natural Formula
Why Take a Postnatal Vitamin?
Pregnancy, birth, and breastfeeding take a heavy toll and put a huge strain on womens bodies, so it's often recommended you take a postnatal vitamin. Bumped Up Postnatal Multivitamin helps stimulate the production of breast milk for nursing mothers and can give new moms the peace of mind of knowing their milk is rich in all the nutrients their baby needs.
Directions
Take 1 serving of (2) tablets in the morning with food.
Bumped Up Postnatal Multivitamin 60 Tablets Ingredients
Serving Size: 2 Tablets
Servings Per Container: 30
Vitamin A (as Beta-Carotene) 5000IU
Vitamin C (as Acerola Cherry) 60mg
Vitamin D3 2000IU
Vitamin E 36IU
Vitamin K (as K1 and K2) 80mcg
Thiamine (as Thiamine Hydrochloride) 4mg
Riboflavin 5mg
Niacin (as NIacinmide) 20mg
Vitamin B6 (as Pyridoxine) 10mg
Folate 540mcg
(from Quatrefolic [6S]-5 methyltetrahydrofolic acid, glucosamine salt 1000mg)
Methyl B12 40mcg
Biotin 600mcg
Pantothenic Acid (as D-Calcium Pantothenate) 10mg
Calcium 150mg
Iron (as AAC/Chelated) 18mg
Iodine (as Potassium Iodide) 150mcg
Magnesium (as Magnesium AAC) 200mg
Zinc (as Zinc AAC) 30mg
Selenium (as Selenium Dioxide) 70mcg
Copper (as Copper Sulfate) 1mg
Manganese (as Manganese Chloride) 2mg
Chromium (as Chromium Chloride) 100mcg
Molybdenum (from Sodium Molybdate) 20mcg
MSM 100mg
Hyaluronic Acid (Sodium) 1mg
*Daily Value Not Established
Other Ingredients: Acacia Gum, Magnesium Stearate, Silica, Microcrystalline Cellulose, Guar Gum
Warnings
Keep out of reach of children. Do not use if seal is damaged or missing. Store in a cool dry place after opening.
References
Saadoon A, Ambalavanan N, Zinn K, Ashraf AP, MacEwen M, Nicola T, Fanucchi MV, Harris WT. Effect of Prenatal versus Postnatal Vitamin D Deficiency on Pulmonary Structure and Function in Mice. Am J Respir Cell Mol Biol. 2017 Mar;56(3):383-392. doi: 10.1165/rcmb.2014-0482OC. PMID: 27870560; PMCID: PMC5359534.

https://pubmed.ncbi.nlm.nih.gov/27870560/
Ahmad SM, Hossain MI, Bergman P, Kabir Y, Raqib R. The effect of postpartum vitamin A supplementation on breast milk immune regulators and infant immune functions: study protocol of a randomized, controlled trial. Trials. 2015;16:129. Published 2015 Mar 31. doi:10.1186/s13063-015-0654-9
https://www.ncbi.nlm.nih.gov/pmc/articles/PMC4389512/
Pannia E, Cho CE, Kubant R, Sánchez-Hernández D, Huot PS, Harvey Anderson G. Role of maternal vitamins in programming health and chronic disease [published correction appears in Nutr Rev. 2016 Dec;74(12 ):785]. Nutr Rev. 2016;74(3):166-180. doi:10.1093/nutrit/nuv103
https://www.ncbi.nlm.nih.gov/pmc/articles/PMC4892288/