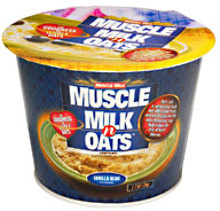 CytoSport Muscle Milk 'n Oats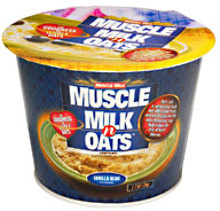 CytoSport Muscle Milk 'n Oats
The Goodness of Whole Oats - Good-to-Go!
Muscle Milk 'n Oats is a quick, convenient, and portable solution for a terrific tasting - satisfying, and highly nutritious meal-on-the-go. All you have to do is add hot water, stir and Muscle Milk 'n Oats is good-to go!
Muscle Milk 'n Oats has something no other portable, instant bowl of oats has: Genuine Muscle Milk™. This healthy treat is packed with 30 grams of our proprietary EvoPro™ protein blend consisting of micellar caseins and whey for sustained energy that fuels you throughout the day.* The designer fats in Muscle Milk 'n Oats are trans-fat free in the form of medium and long chain polyunsaturated fatty acids, which promote lean muscle growth and enhance the retention of minerals.* Muscle Milk 'n Oats also supply's slow-burning complex carbohydrates and 4 grams of hunger-filling dietary fiber.*
When you combine Muscle Milk with whole grain oats, not only do you enrich your diet with a meal low in saturated fats and cholesterol, but you also receive a significant portion of the recommended daily amounts of whole grain foods and fiber. Muscle Milk 'n Oats is a perfect choice for genuinely nutritious meal-on-the-go.
Wherever you are in your busy life, great tasting, convenient, and nutritious Muscle Milk 'n Oats will keep you fueled throughout the day!
Benefits of Muscle Milk 'n Oats:
Muscle Growth & Repair: 30 grams of EvoPro™multi-source balanced protein to support lean, toned muscle.*
Complex Carbs: 34 grams of complex, low-sugar, low-glycemic index carbohydrates to fuel a great workout or a busy day.*
Efficient Energy Production: LeanLipids™ are special, trans-fat free fats that are easily burned for energy and less likely stored as fat.*
Zero Lactose: Muscle Milk 'n Oats are lactose free
Amazing Taste: Same flavor-packed indulgence that you expect from Muscle Milk