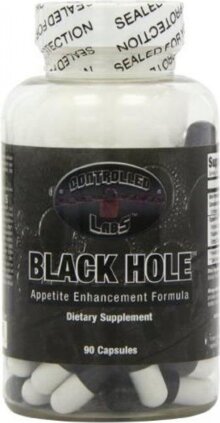 Controlled Labs Black Hole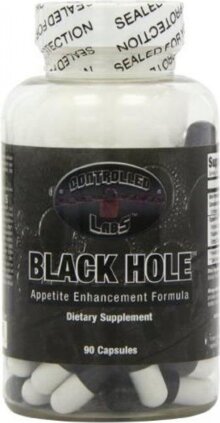 Controlled Labs Black Hole
Product Highlights
Fast Absorption/Fast Acting*
Eat More Than Ever Before*
Helps Indirectly Add Lean Mass*
Legal, Safe, and Effective for Both Men and Women*
Stimulate Metabolism to Reduce Body Fat*
Natural Digestive Aids for Increased Calories*
Also Acts as a Natural Pain and Joint Supplement*
Does not produce false positive drug tests*
Eat; Its what all the guys in the gym tell you to do. If you want to get big there is no shortcut, no easy way out. You need to eat and you need to eat a lot. Most people find it hard to consume more than a few thousand calories per day. There is a good reason for that; your body uses hormones to tell your brain stop eating, you already have enough calories for now. You try to stuff yourself even more but you end up feeling sick; again its the hormones trying to physically make you stop at this point. These hormones are acting in most peoples best interest: people who are obese and do not exercise. However if you are eating clean and you are using all of these calories then its not helping you in any way, shape or form. What if there is a way to effectively stop these hormones from keeping you from eating, from your goals and dreams of packing on quality lean muscle mass?
Now there is. Black Hole from Controlled Labs uses naturally occurring alkylamides to fool the brain into believing that you havent eaten enough calories and you need more food. Sound good?*
Digest-It-All Complex
It wouldnt be in your best interests to create a huge appetite and not have the ingredients to help you digest all of those extra calories, which is why we included the Digest-It-All complex in Black Hole. Digest-It-All will not only soothe the gastrointestinal system, but will also help you produce more gastric juices to accommodate the increased calories and food mass. Humulus lupulus, otherwise known as hops, that is typically used in the manufacturing of beer, helps the stomach produce a larger volume of gastric juices that aid in digestion. Why push yourself so hard in the gym only to look like you have a beer belly due to bloating? You deserve the physique you work so hard on, which is why we added Clavo huasca and Cayaponia tayuya to the formula. They both aid in digestion and in the expelling of extra gas from the intestines. Ginger has been added to help increase the volume of bile excreted from the gallbladder, as well as for its anti-oxidant benefits. Giant Knotweed has also been added as an anti-oxidant. These two powerful anti-oxidants will help scavenge free radicals that can result from greater food consumption.*
You asked for it and now you have it, the first and only appetite stimulator supplement on the market, Black Hole!!
References
Matthias A, Addison RS, Penman KG, Dickinson RG, Bone KM, Lehmann RP. Echinacea alkamide disposition and pharmacokinetics in humans after tablet ingestion. Life Sci. 2005 Sep 2;77(16):2018-29.
Woekart K, Koidl C, Grisold A, et al. Bioavailability and pharmacokinetics of alkamides from the roots of Echinacea angustifolia in humans. J Clin Pharmacol. 2005;45:683-689.
Ramsewak RS, Erickson AJ, Nair MG. Bioactive N-isobutylamides from the flower buds of Spilanthes acmella. Phytochemistry. 1999 Jul;51(6):729-32.
Labinskyy N, Csiszar A, Veress G, Stef G, Pacher P, Oroszi G, Wu J, Ungvari Z. Vascular dysfunction in aging: potential effects of resveratrol, an anti-inflammatory phytoestrogen. Curr Med Chem. 2006;13(9):989-96.
Sharma M, Arnason JT, Burt A, Hudson JB. Echinacea extracts modulate the pattern of chemokine and cytokine secretion in rhinovirus-infected and uninfected epithelial cells. Phytother Res. 2006 Feb;20(2):147-52.
Nikolic D, Li Y, Chadwick LR, van Breemen RB. In Vitro Studies of Intestinal Permeability and Hepatic and Intestinal Metabolism of 8-Prenylnaringenin, a Potent Phytoestrogen from Hops (Humulus lupulus L.). Pharm Res. 2006 May 16;
Stefan Raduner, Adriana Majewska, Jian-Zhong Chen, Xiang-Qun Xie, Jacques Hamon, Bernard Faller, Karl-Heinz Altmann, and Jürg Gertsch. Alkylamides from Echinacea are a new class of cannabinomimetics - CB2-receptor dependent and independent immunomodulatory effects. J. Biol. Chem, 10.1074/jbc.M601074200
Matthias A, Blanchfield JT, Penman KG, Toth I, Lang CS, De Voss JJ, Lehmann RP. Permeability studies of alkylamides and caffeic acid conjugates from echinacea using a Caco-2 cell monolayer model. J Clin Pharm Ther. 2004 Feb;29(1):7-13.
Goel V, Chang C, Slama J, Barton R, Bauer R, Gahler R, Basu T. Echinacea stimulates macrophage function in the lung and spleen of normal rats. J Nutr Biochem. 2002 Aug;13(8):487.
Sun L, Rezaei KA, Temelli F, Ooraikul B. Supercritical fluid extraction of alkylamides from Echinacea angustifolia. J Agric Food Chem. 2002 Jul 3;50(14):3947-53.
Escandell JM, Recio MC, Manez S, Giner RM, Cerda-Nicolas M, Rios JL. Dihydrocucurbitacin B, isolated from Cayaponia tayuya, reduces damage in adjuvant-induced arthritis. Eur J Pharmacol. 2006 Feb 17;532(1-2):145-54. Epub 2006 Jan 27.
Recio MC, Prieto M, Bonucelli M, Orsi C, Manez S, Giner RM, Cerda-Nicolas M, Rios JL. Anti-inflammatory activity of two cucurbitacins isolated from Cayaponia tayuya roots. Planta Med. 2004 May;70(5):414-20.
Huguet AI, Manez S, Alcaraz MJ. Superoxide scavenging properties of flavonoids in a non-enzymic system. Z Naturforsch [C]. 1990 Jan-Feb;45(1-2):19-24.
Platel K, Rao A, Saraswathi G, Srinivasan K. Digestive stimulant action of three Indian spice mixes in experimental rats. Nahrung. 2002 Dec;46(6):394-8.
Yamahara J, Miki K, Chisaka T, Sawada T, Fujimura H, Tomimatsu T, Nakano K, Nohara T. Cholagogic effect of ginger and its active constituents. J Ethnopharmacol. 1985 May;13(2):217-25.