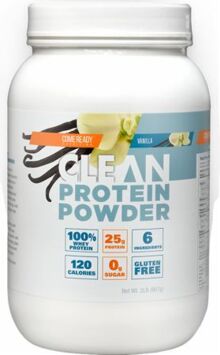 Come Ready Nutrition Clean Protein Powder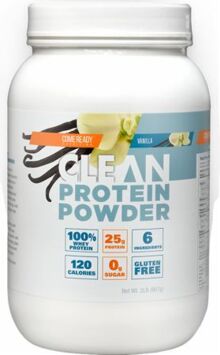 Come Ready Nutrition Clean Protein Powder
No Artificial Ingredients
No Gums
No Sucralose
No Ace K
Gluten Free
0g Sugar
120 Calories
Simple isn't always so easy...
Simple isn't always easy…Especially when it comes to producing a clean and great tasting protein powder. It was our biggest product development challenge we've taken on as a company. Why –the science behind creating the perfect powder is a methodical process. It requires nothing less than perfection to achieve a strong nutritional profile with a taste that makes you want to shake every drop out of your cup. It will leave you feeling satisfied, feeling strong yet it doesn't make you feel full. For me, it's the worst feeling in the world to drink a shake only to have an aftertaste in my mouth and my stomach feeling bloated.
Well – we nailed it. We accomplished all of those things with only 6 ingredients – yes 6 ingredients! And with 100% whey protein – you'll notice Isolate is our number one ingredient. And the best part is there's nothing artificial. It's an all-natural, gluten free combination of simple ingredients with a light and smooth taste you'll want to drink every day. Here's to living Clean!
Pat Cavanaugh
Come Ready Nutrition Founder
Clean Eating Fanatic
Leslie Bonci
Chief Nutrition Officer
Nutrition consultant for the Pittsburgh Pirates, Carnegie Mellon University athletics, the Toronto Blue Jays and Kansas City Chiefs. She was the sports dietitian for the Pittsburgh Steelers for 24 years, and has also worked with the Pittsburgh Penguins and the Washington Nationals. In addition, she is a sports nutrition consultant to the WNBA. Leslie is a member of Whey Protein Advisory Panel.
Chelsey Walton
Come Ready Nutrition Athlete
National Bikini Champion
Two Time NPC Bikini Champion
2012 NPC Natural Monster Mash Competition 1st and Overall
2013 NPC Natural Lakewood Championships 1st and Overall
Certified Sports Nutritionist
Clean and Great Tasting!