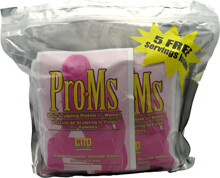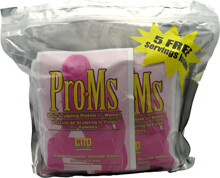 Pro Ms is a comprehensive nutritional strategy for high intensity athletes, women exposed to high stress situations, and women just starting out to change their body shape. Pro Ms has been formulated to assist in producing more lean tissue and to stimulate the body to burn off unwanted fatty tissue so that women can obtain an attractive, fit body shape. Pro Ms is packed with high quality, cutting edge ingredients. Every ingredient has been chosen for function without regard for expense. While others use less expensive refined starches and sugars, we use only whole grain, mixed, complex carbohydrates sources - Flax Seed Meal, Rice Meal and Oat Meal. Our protein blend is unique - a whey protein that is concentrated from skim milk to maximize the bioactive protein content, not the cheese whey proteins that you will find in other meal replacements. A milk protein that has been cultured to contain live, active probiotic (friendly) organisms - bifidus, acidophilus, and yogurt organisms - that will help improve effeciency of digestion adn to maximize absorption of essential nutrients. Soy Protein that also contains isoflavones. Our protein blend has also be formulated for the human body, with a ratio of whey proteins to micellar casein that is close tothat ratio found in human material milk. We have added a unique mixture of cutting edge ingredients and extracts, including green tea extract, miatake mushroom meal, CLA, and Omega-3 Fatty Acids. These ingredients have been shown in studies to contribute significant antioxidant properties that could be especially beneficial to the longterm health of women. We have also added three new, relatively unknown ingredients, jojoba extract, white kidney bean extract, and raspberry essence. These ingredients have been shown to assist the body in burning fat and resculpting shape. Change your life! Change your body! Add Pro Ms to your diet and you will see and feel the difference!

Nutrition Facts
Serving Size 1 packet
Servings Per Container 20

Amount Per Serving

% Daily Value

Calories 160

Calories from Fat 20

Total Fat 2 g 3%

Saturated Fat 1 g 2%

Cholesterol 20 mg 7%

Sodium 300 mg 12%

Potassium 400 mg 12%

Total Carbohydrate 11 g 4%

Dietary Fiber 2 g

Sugars 2 g

Protein 25 g 50%

Vitamin C 60 mg 100%

Calcium 1,000 mg 100%

Iron 8 mg 50%

Vitamin D 240 IU 60%

Vitamin E 30 IU 100%

Biotin 180 mcg 60%

Chromium 50 mcg 40%

Copper 1 mg 40%

Iodine 60 mcg 40%

Magnesium 300 mg 30%

Manganese 1 mg 50%

Molybdenum 60 mcg 80%

Niacin 20 mg 100%

Pantothenic Acid 6 mg 40%

Phosphorus 900 mg 90%

Selenium 30 mcg 42%

Vitamin B12 3 mcg 50%

Vitamin B6 61 mg 60%

Zinc 15 mg 100%

Riboflavin 1 mg 60%

Thiamin 1 mg 60%

Folic Acid 200 mcg 50%

Vitamin A (as Beta Carotene) 1,500 IU 30%

Choline 80 mg

*percent Daily Values are based on a 2,000 calorie diet.

Ingredients: Pro Ms Proprietary Structured Protein Blend (Whey Protein from High Fraction Concentrate, Milk Protein Cultured with Bifidus, Acidophilus, and Yogurt Organisms, Soy Protein Concentrate, Peptide Bonded Glutamine), Whole Grain Carbohydrate Mix (Fructo-Oligo-Saccharide, Organic Flax Seed Meal, Rice Meal, Oat Meal), Natural and Artificial Flavors, Vitamins and Minerals (Dicalcium Phosphate, Dipotassium Phosphate, Potassium Chloride, Salt, Magnesium Oxide, Choline Bitartrate, Ascorbic Acid, D-Alpha Tocopheryl Acetate, Ferrous Fumarate, Niacinamide, Beta Carotene, Zinc Oxide, Calcium Pantothenate, Manganese Sulfate, Vitamin D3, Copper Sulfate, Pyridoxine Hydrochloride, Riboflavin, Thiamine Hydrochloride, Chromium Chloride, Cobalamin Concentrate [Vitamin B12], Folic Acid, Biotin, Sodium Molybdate, Sodium Selenite, Potassium Iodate), Proprietary Feminine Metabolic Fat Blend (Canola Oil, Sunflower Oil, Lecithin, Flax Seed Oil), Proprietary Antioxidant/Fat Burning Blend (Conjugated Linoleic Acid [CLA], Raspberry Essence, Green Tea Extract, Jojoba Extract, White Kidney Bean Extract, Maitake Mushroom Meal, Omega-3-Fatty Acids), Cellulose Gum, Beet Root Powder, Sucralose.

These statements have not been evaluated by the Food and Drug Administration. This product is not intended to diagnose, treat, cure or prevent any disease.

Directions:For a rich, delicious shake, combine contents of one envelope with 16 ounces of cold water and thoroughly mix for 60 seconds. Consume 2 to 3 servings per day.