Quick Links to Best Prices Price History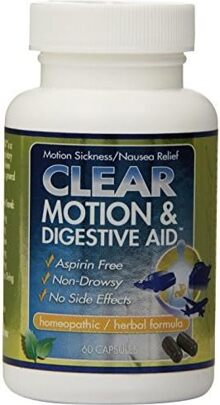 Clear Products Motion & Digestive Aid
Motion & Digestive AidDescriptionfromClear Products
clear Motion & Digestive Aid is a unique blend of homeopathic/herbal remedies specifically formulated to relieve general nausea, abdominal distress, bloating, acid reflux, gas and motion sickness. Clear Motion & Digestive Aid is ideal for boat rides or air travel and can also be used for driving, cruises, and fishing.

Benefits and Features of Clear Motion & Digestive Aid:

-Contains ginger, clinically proven to relieve the symptoms of motion sickness

-Easy-to-swallow capsules, individually wrapped for freshness and convenience

-Safe for children

-Safe for individuals with heart problems; does not increase heart rate

-Does not cause drowsiness

-Free of sugar, starch, yeast, wheat, gluten, corn, dairy products and preservatives

-Great for driving, flying, sailing, cruises, scuba diving, and fishing
Ingredients:
Active Homeopathic Ingredients: Carbo Veg 6x, Lycopodium 3x, Calcarea Carbonica 6x, Nux Vomica 6x, Lobelia Infata 3x, Natrum Phosphate 6x, Cocculus 6x.

Other Ingredients (Herbal Extracts): Ginger Root, Hoelen Root, Coix Seed, Magnolia Bark, Atractylodes Root, Oryza Root, Pogostemi Herb, Saussurea Root, Tangerine Peel, Chrysanthemum Flower.
Manufacturer's Directions
Take 1-2 capsules 3 times per day as needed or as directed by your healthcare practitioner. Do not exceed more than 6 capsules in a 24-hour period.
Manufacturer's Disclaimer
Clear Motion & Digestive Aid helps neutralize stomach acid. People with a decreased or lack of secretions should not take Clear Motion & Digestive Aid as this may worsen the condition.

Aspirin, ibuprofen, and other non-steroidal anti-inflammatory drugs should not be taken as they are irritating to the stomach. Antacids may suppress the symptoms of an ulcer. Stress may cause stomach discomfort.