Quick Links to Best Prices Price History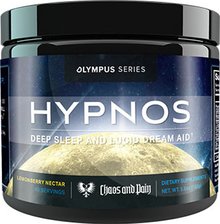 Product Information
Chaos and Pain Olympus Series Hypnos 40 serving
Sleep is absolutely essential if you're going to train hard, but for some of us sleep comes fleetingly. That means GH and testosterore levels end up depressed, our training sessions suck, and we're generally horrible to be around.

This is why Chaos and Pain has Hypnos- sleep is not for the weak... it's for the strong. As such, we packed our custom sleep aid with:

• The phenomenal Russian anti-anxiety and sleep aid Phenibut, its precursor GABA, and ZMA for deep, restful sleep with no hangover.
• Valerian Root and L-Dopa for even more improved sleep and reduced anxiety and stress, which will lower cortisol levels.

• Picamilon, which exerts GABA-ergic effects on the brain to make it easier to fall asleep and stay asleep.

• Hops and Passionflower to enhance dreaming, which deepens sleep and increases growth hormone production.1

Directions: Take 1-2 scoops of Chaos and Pain Hypnos in 8-10 oz of water 30 minutes prior to bed to ensure deep, dream-filled sleep. Warning: WILL CAUSE DROWSINESS. Do not take before operating heavy machinery.
These statements have not been evaluated by the Food and Drug Administration. This product is not intended to diagnose, treat, cure, or prevent any disease.
1: Individual results may vary. Reviews are based on the experiences of a few people and you may not have similar results.