Quick Links to Best Prices Price History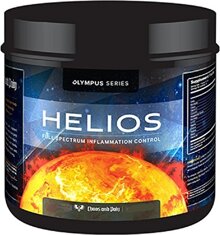 Product Information
Chaos and Pain Olympus Series Helios 30 serving

Every office has that guy- the guy who used to lift, until he got a family blah blah blah. He'll regale anyone within earshot of his obviously fictitious historical weightlifting deeds, and bro, he "totally used to be as big as you." Now he spends all of his time whining about his joints and announcing to the office when it's going to rain because his tendinitis, that he totally got benching 455, is acting up.

No one at Chaos and Pain wants to be that guy, and we don't want you to either, which is why we've formulated the strongest anti-inflammatory / joint support supplement on the market. Time to stop pouring a bottle of ibuprofin down your throat every day and get on board the anti-pain train with Olympus Helios, which is jam-packed with anti-inflammatory, pain reducing, joint health-improving ingredient we could throw into it.

So, what is going to hit you faster than micronized acetominophen and last far longer, too? How about a blend of Essential Amino Acids (Lysine, Methionine, Threonine, Phenylalanine, and Tryptophan), Microlactin, Cissus, Vitamin C, Curcumin, Astagaloside Extract, Bromelain, 5-HTP, Betaine, Choline, Piperine, Silicon, and Vitamin K1, which combine to wash over you like a thousand tiny fairy hands, massaging away your pain.

Time to stop surviving your workouts and start thriving.1

Directions: Consume one scoop in water twice a day whenever you feel the onset of joint, ligament or tendon pain. Olympus Helios can also be consumed on a regular basis as a preventative against joint pain and inflammation.

To ensure optimal results, consume Olympus Helios on an empty stomach. Consuming Olympus Helios with food will greatly reduce inflammation and pain reduction.

Other Ingredients: Mango Flavor, Acesulfame-K, Citric Acid, Sucralose, Maltodextrin, Sipernat.

These statements have not been evaluated by the Food and Drug Administration. This product is not intended to diagnose, treat, cure, or prevent any disease.
1: Individual results may vary. Reviews are based on the experiences of a few people and you may not have similar results.