Quick Links to Best Prices Price History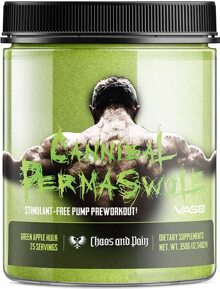 Chaos and Pain Cannibal PermaSwole
Product Information
Chaos and Pain Cannibal Permaswole 34 serving


Ever feel so pumped you lose track of where your shoulders are and run into stuff at random? Ever feel so strong you consider walking through doors rather than going to the trouble of opening them? If you have, it's awesome, and if you haven't, you should be dying to.

This is why Chaos and Pain has created Cannibal Swole, a stimulant free preworkout designed to have you as big and as strong as you've ever been.

Cannibal PermaSwole is a bleeding edge formulation of ingredients optimized for the competitive strength athlete to enhance power, endurance, explosiveness, and recovery. Instead of focusing simply on those ingredients that will improve one's appearance, Cannibal PermaSwole brings the best of both worlds to ensure that people using it will be lean, hard, and vascular while outperforming their competition on the platform and in the gym.

- No "proprietary blends." With Cannibal PermaSwole, you know every incredibly powerful and unique ingredient and their dosage within the bottle- what you see is what you get.

- Contains L-Citrulline and Agmatine, both of which are essential for the cell volumization that change increased strength and endurance from a dream into reality.

- Increases glucose uptake and regulation, so athletes get leaner as they get stronger.1

Directions: Cannibal PermaSwole contains no stimulants, so there is no cutoff time at which you need to stop taking it in order to facilitate sleep. It is an incredibly potent pre-workout, however, and should only be taken on training days to ensure maximum efficacy and cell volumization. Take 1-2 heaping scoop of Cannibal PermaSwole 30 minutes prior to your workout for incredible pumps, increased strength, and intensified nutrient delivery. For best results, consume with 10-12 ounces of water per scoop of Cannibal PermaSwole.

Warning: Not for use by individuals under the age of 18. Do not use if you are pregnant or nursing. Consult a healthcare professional prior to use if you have, or have a family history of, heart disease, diabetes, high blood pressure, depression or other psychiatric condition, glaucoma or seizure disorder, or if you are using a monoamine oxidase inhibitor (MAOI), lithium, any , or any over-the-counter . This product is not intended as a substitute for sleep. KEEP OUT OF REACH OF CHILDREN & PETS. STORE IN A COOL DRY PLACE.

Other Ingredients: Art apple, sour green apple, citric acid, sucralose, debittering, ace K, green color.

Note: Ingredients and Nutrition Data are for the Green Apple Hulk flavor. Other flavors may vary.
These statements have not been evaluated by the Food and Drug Administration. This product is not intended to diagnose, treat, cure, or prevent any disease.
1: Individual results may vary. Reviews are based on the experiences of a few people and you may not have similar results.