Quick Links to Our Prices Price History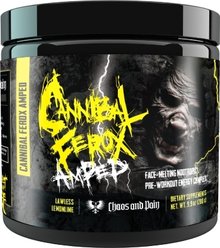 Chaos and Pain Cannibal Ferox Amped
Product Information
Chaos and Pain Cannibal Ferox Amped 25 serving
Cannibal Ferox AMPED is the most extreme pre-workout on the market! This product was formulated with the maximum legal amounts of caffeine, and newcomer 2-aminoisoheptane (DMHA) then backstopped with narangin, which extends the half-life of any stimulant used in concert with it, in addition to enhancing their natural stimulant properties. Then, when combined with higenamine, hordenine and synephrine, the amount of sustainable energy you get from Ferox Amped can only be described as "THE" High Stimulant Pre-Workout, That Includes Tons Of Extras! This concoction of stimulants will have you ready to run through walls and tear through phone books all before you've even lifted your first weight.

• Cannibal Ferox contains NO "proprietary blends". You know every wonderfully insane ingredient and their dosage within the bottle. What you see is what you get.

• Contains stimulant newcomers 2-aminoisoheptane, higenamine and hordenine to give this product the hard edge that fans of the now extinct DMAA search for.

• Jam packed of mood enhancers and nootropics to ensure that workouts fueled by Canibal Ferox will yield personal records through razor-sharp focus and eurphoria.1

Directions: We packed this thing with every legal stimulant and nootropic we could find, making it perfect for anything ranging from picking things up and putting them down, smashing through all-night study sessions, or just getting through a workday with a hangover. So you're ready to chew through a barbell when you hit the gym, drop 1 heaping scoop of Cannibal Ferox AMPED into whatever liquid you so desire.

Warning: Not for use by individuals under the age of 18. Do not use if you are pregnant or nursing. Consult a healthcare professional prior to use if you have, or have a family history of, heart disease, diabetes, high blood pressure, depression or other psychiatric condition, glaucoma or seizure disorder, or if you are using a monoamine oxidase inhibitor (MAOI), lithium, any , or any over-the-counter . Avoid other sources of caffeine during use. This product is not intended as a substitute for sleep. KEEP OUT OF REACH OF CHILDREN & PETS. STORE IN COOL DRY PLACE.

Other Ingredients: Watermelon flavor, Acesulfame K, Sucralose, Maltodextrin, Sipernat.

Note: Ingredients and Nutrition Data are for the Watermelon Warmachine flavor. Other flavors may vary.
These statements have not been evaluated by the Food and Drug Administration. This product is not intended to diagnose, treat, cure, or prevent any disease.
1: Individual results may vary. Reviews are based on the experiences of a few people and you may not have similar results.