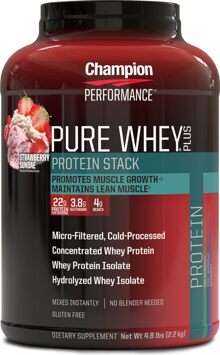 Champion Nutrition Pure Whey Plus Protein Stack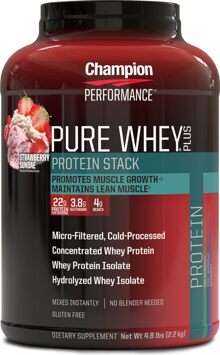 Champion Nutrition Pure Whey Plus Protein Stack
The Fuel Your Muscles Crave
100% Whey Stack with Isolate and Hydrolyzed Isolate
BCAAs to Help Stop Catabolic Muscle Loss*
Lean Muscle Builder for Strength and Performance*
Micro-Flitered, Cold-Processsed Concentrated Whey Protein
Mixes Instantly, No Blender Needed
Rich, Delicious Taste & Gluten Free
It takes a combination of hard work, discipline and the right nutrition to achieve the ripped, strong, powerful body you want. To Rise Above just average, you need the most effective science-based nutritional fuel from a source you can trust - no matter what. This is where Champion Performance comes in.
---
The Pure Whey Plus Power Stack
Cross Flow Micro-Filtered Concentrated Whey
Micro-filtered,cold-processed whey protein packed with bioactive nutrients for building and maintaining lean muscle mass.*
Whey Isolate
Purified whey protein for fast absorption by your body.
Hydrolyzed Isolate
Ultra-filtered protein optimized to deliver BCAAs and other essential amino acids to help diminish catabolic muscle loss.*
BCAA's
Branched chain amino acids (BCAA's) are critical for building muscle and restoring muscle tissue exhausted during your high-intensity workouts.*