Quick Links to Our Prices
How does this work and how do stores get listed? See our disclosure below to learn more. Price History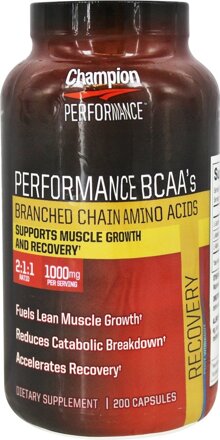 Champion Nutrition Performance BCAA's
Performance BCAAs
Stimulates Muscle Growth*
Increases ATP Production*
Reduces Muscle Breakdown*
Shortens Recovery Cycle*
When you're training to develop a stronger, more powerful body, it is essential to fuel your muscles at the cellular level. Branched Chain Amino Acids (BCAAs), Leucine, Isoleucine, and Valine make up approximately 1/3 of muscle protein. Wellness Nutrition BCAAs delivers a 2:1:1 ratio that helps reduce muscle fatigue, speed recovery, decrease the loss of other amino acids, and helps the body absorb protein. BCAAs are rapidly depleted from the muscle when training and a deficiency in any one of them will cause muscle loss and catabolism. Taking BCAAs before and/or during a workout provides the optimal muscle fuel to increase performance and reduce fatigue.*
Leucine
Leucine has many beneficial effects on sports performance. It helps preserve lean muscle tissue, it supplies the body with energy when engaging in athletic activity, it preserves muscle glycogen (glucose stored in muscle tissue used to power muscular contraction). It maintains nitrogen balance, and it enhances thinking abilities that can decline as physical activity becomes more intense.*
Frequently Asked Questions
What are BCAAs?
BCAAs (Branched Chain Amino Acids) are made up of three amino acids: leucine, isoleucine and valine. Amino acids are the building blocks of protein, which in turn are the building blocks of muscle.
Do BCAAs build bigger muscles?
Several recent studies have shown that taking leucine after a workout significantly raises protein-synthesis rates [muscle growth]. Leucine acts as an important component of the cascade of chemical signals that activate protein synthesis.
What is the difference between Essential and Non-Essential Amino Acids?
Essential amino acids cannot be made by the body. They must be obtained from complete protein foods or combinations of incomplete vegetable foods. There are 9 essential amino acids: histidine, isoleucine, leucine, lysine, methionine, phenylalanine, tryptophan, and valine. Your body can make non-essential amino acids by itself from vitamins and other amino acids.
The term "non-essential" can be misleading since all amino acids are essential for proper metabolism and certain non-essential amino acids such as glutamine, are actually extremely vital. The 13 non-essential amino acids are alanine, arginine, aspartic acid, cysteine, cystine, glutamic acid, glutamine, glycine, hydroxyproline, proline, serine, & tyrosine.
The essential branched chain amino acids (BCAAs) are of special importance for athletes because they are metabolized in the muscle, rather than in the liver. The process works as follows: After digestion once protein is broken down into individual amino acids these aminos can either be used to build new proteins or be burned as fuel to produce energy.