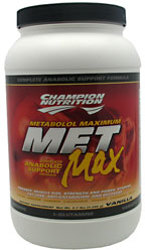 Champion Nutrition Met Max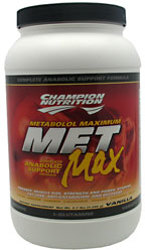 Champion Nutrition Met Max
For the demands of extreme training,
your body requires maximum support. For this reason we created Met-Max the ultimate nutritional supplement to help you build muscle.*
What is Met-Max?
Met-Max began with a concept - a concept that was initiated by professional bodybuilders in order to create the ultimate anabolic formula that would give elite athletes the edge in their quest to achieve a stronger physique. In our development strategy, Met-Max had to:
Deliver a significant amount of high-quality protein
Promote muscle growth*
Reduce muscle loss*
Support increased fat loss*
Deliver energy*
Encourage increased strength*
In the end, we achieved these six goals and something even more unique.
Met-Max works for all types of athletes!
Athletes plateau because their body stops responding to training. Progress in fat loss, size, strength or stamina slows down or stops altogether. Met-Max's special ingredients encourage your metabolism to help you break through the barrier separating you from your goals.* It is specifically formulated to support metabolism response, so whatever you are trying to do, happens faster and with greater effect.* The reason is well-known to all who use it. They get results quickly!*
Endurance athletes use Met-Max to bust through stubborn plateaus.* They may promote increased stamina, recover faster and feel better at the end of their day.* Strength athletes use Met-Max because it assists with developing explosive power and size more quickly, and they accomplish this while gaining less fat.* Since Met-Max is formulated to make your metabolism more responsive, it is the one product that crosses all the lines from hardcore strength to hardcore endurance.*
In order to enhance muscle size, strength, power, stamina, fat loss, anti-catabolism and recovery, Met-Max contains the most complex combination of advanced, yet safe, performance-enhancing ingredients ever assembled in one product.
Protein from 6 different sources, including hydrolyzed whey protein, to help you build and repair muscle tissue.*
3 grams of HPCE pure creatine monohydrate to help promote muscle size and strength.*
Arginine-aspartate to support the anabolic environment stimulated by strenuous exercise.*
BCAAs, KIC and succinates to help encourage faster recovery and help reduce post-workout soreness.*
OKG and L-glutamine to help support optimal nitrogen balance and reduce exercise-induced catabolism.*
Vanadyl nicotinate to promote optimal insulin release and to drive more carbohydrates and creatine into muscle cells.*
Hydroxycitrate and low-glycemic carbohydrate to help reduce excess carbohydrates from being converted to fat.*
Choline, L-carnitine and inositol to support fat-burning/fat-to-energy efficiency.*
Guarana and theobroma to maximize your energy levels.*
Phosphatidylserine to reduce muscle breakdown.*