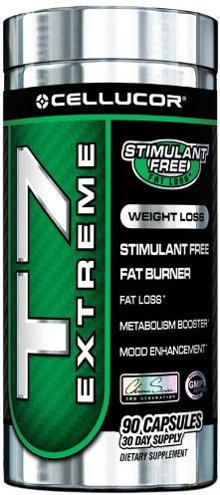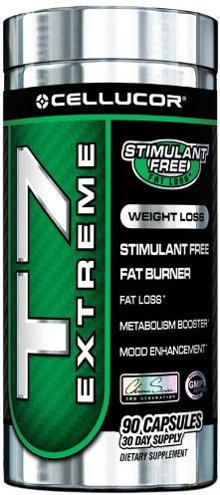 Traditionally weight loss aids have very simple formulas—loads of caffeine to boost metabolism, and little else to truly promote weight loss.
Cellucor changed the game with D4 Thermal Shock—a cutting-edge weight loss product that utilizes beta-2 signaling, not just caffeine, to help promote metabolism, energy and focus.*
What about a stimulant-free, safe and effective weight loss aid for those who don't want/can't take stimulant based products?
Cellucor's T7 Extreme is a 100% stimulant free, safe, natural weight loss aid.* Because it's caffeine free, T7 Extreme is the fat loss product for stimulant-sensitive individuals.*
The innovative formula utilizes 5-HTP to curb appetite and promote happiness and well-being—essential while dieting and trying to lose weight.
When the level of the feel-good chemical serotonin in your brain falls, your body senses starvation, and to protect itself, starts craving carbs. 5-HTP may help support the body's normal serotonin level, promoting weight loss.*
A University of Rome Clinical Trial studied 28 women on identical diets over a 12 week period. The diets were normal, consisting of approximately 50% carbs, 30% fat, and 20% protein—hardly an extreme weight loss diet! In the 12 week time period, the group supplementing with 5-HTP lost an average of 12 pounds while the control group lost an average of 1.87 pounds. 90% of women taking 5-HTP reported feeling satisfied and positive while on the diet.*
T7 Extreme also contains Wakame Extract, a natural ingredient that may promote metabolism, and may help convert white fat cells into heat energy.*
T7 Extreme adds another dimension of fat loss by supporting the body's natural thyroid production; by promoting thyroid output, T7 Extreme may help support metabolism and inhibits fat storage, unleashing a new dimension of total fat loss.*
WHITE WILLOW BARK EXTRACT
White Willow Bark Extract is a natural source of salicin. Insulin sensitivity, glucose metabolism, and fat metabolism may all be promoted by salicylic acid.* White Willow may also help support healthy circulation, and blood flow.*
ZINC ARGINATE CHELATE
Zinc Arginate Chelate is Zinc, an essential mineral, fused with arginine. Binding zinc to arginine, may help support vasodilation, which may promote absorption. Zinc has a multitude of health promoting benefits including immune system support, promoting cell growth/repair and normal function of the reproductive organs and prostate gland.*
Zinc Arginine Chelate may also help replenish lowered zinc levels that the body may incur while taking Fucoxanthin.*
WAKAME EXTRACT (FUCOXANTHIN)
Wakame is a type of brown seaweed and contains Fucoxanthin. Fucoxanthin may help support a normal level of new fat cell formation by inhibiting PPAR-gamma, a gene that regulates fat storage and metabolism.* Fucoxanthin may also activate uncoupling protein-1 in white fat cells, which may promote the body's normal conversion of fat cells into heat instead of generating ATP via fat cell metabolism.*
NIACINAMIDE
Niacinamide is a water-soluble B-complex vitamin. Niacin, or nicotinic acid, is also known as Vitamin B-3. Niacinamide may help support normal insulin function in the body.*
5-HTP
5-HTP is 5-Hydroxytryptophan, a naturally-occurring amino acid extracted from Griffonia seeds. 5-HTP may help maintain a healthy, normal appetite and promote normal, healthy sleep patterns.* 5-HTP may also function as a precursor for serotonin and melatonin neurotransmitters ,which may promote positive mood and well-being.*
3-IODOTYROSINE
3-Iodotyrosine is a precursor that may help support thyroid hormone.* Enhancing thyroid output may promote higher metabolism and fat loss.*
SELENIUM (AS METHYLSELENOCYSTEINE)
Selenium is an essential trace mineral that may support several key enzymes antioxidant, metabolic enzymes, and thyroid hormone activating enzymes. Selenium may help support normal thyroid production which promotes higher metabolism and fat loss.*
3,5-DIIODOTYROSINE
3,5-Diiodotyrosine is a precursor that may help support thyroid hormone.* Enhancing thyroid output may promote higher metabolism and fat loss.*
CAYENNE
Cayenne contains capsaicin, a powerful compound found in chili peppers. Capsaicin may promote natural weight loss by supporting healthy metabolism.* Cayenne may support antioxidants in the body and promote healthy circulation and digestion.*
Cellucor has set another industry first by drastically improving label transparency. Beginning with the "Chrome Series" line, Cellucor has clearly labeled all key ingredient dosages - no more confusing proprietary blends, no more wondering what you're actually taking. It is our firm belief that greater information accessibility will allow us to deliver greater results.