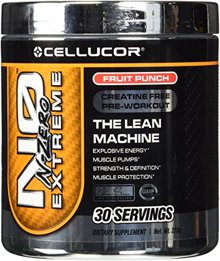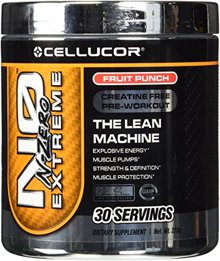 WORKOUT LIKE A
MACHINE
ZERO CREATINE
ZERO SUGAR
CREATINE, CARBS, AND SUGAR ARE
NOT

FOR EVERYONE

Those ingredients are great if you want to gain size and mass, but what if that's not your goal?

For men and women looking to achieve lean, hard muscle definition and tone, enhance endurance, maximize athletic performance and expedite recovery—finally there is a perfect product for you.*
ZERO COMPETITION
Cellucor's N-Zero Extreme is a Zero Creatine and Zero Sugar Pre-Workout that contains only 1G of Carbs. N-Zero contains NO3 technology, BCAA's and Beta Alanine to generate unmatched NO levels in the body, maximize endurance and drastically reduce muscle fatigue.
WHAT IS NO3?
NO3 is Nitrate, an advanced ingredient that dilates smooth muscle tissue to maximize blood flow into whatever muscle group you're working on that day—legs, shoulders, biceps—to expedite results.
Cellucor's N-Zero Extreme contains NO3 as Arginine Nitrate, a fusion of L-Arginine and Nitric Acid. Combining these two efficient and powerful vasodilators generates unmatched NO levels in the body, promoting a lean, hard physique, dense muscle tone, amplifies strength and athletic performance, and promotes quick muscle recovery by augmenting nutrient delivery.
ZERO IN ON BODY FAT
N-Zero Extreme contains Synephrine and Caffeine to dramatically increase fat burning, boost energy levels and enhance focus—these ingredients help you push yourself harder, burn body fat faster, and eliminate distractions.
For the man looking to take a break from creatine, get ripped, or simply ignite his sports performance; for the woman looking for something to enhance her workout or athletic performance, and get more toned in less time—Cellucor's N-Zero Extreme is your tool.
N-ZERO EXTREME INGREDIENTS
ARGININE NITRATE
Arginine Nitrate is a fusion of L-Arginine and Nitric Acid. Arginine is a power precursor to nitric oxide that supports vascularity and strength, and promotes healthy growth hormone levels.* Nitrate is a highly absorbable derivative of nitric acid. It is an effective vasodilator, enlarging the blood pathways into the muscles, which may help support blood flow, muscle pumps, and more efficient nutrient delivery.* Combining these two efficient and powerful vasodilators may help support NO levels in the body.*
BETA ALANINE
Beta Alanine is a naturally occurring amino acid. Beta Alanine encourages higher intramuscular carnosine levels which may help amplify energy levels, supports muscular endurance, and promote improved performance.* Beta Alanine is effective as a buffer, preventing lactic acid accumulation in skeletal muscle (which occurs during exercise) which supports the body's ability to perform better, longer.*
L-CITRULLINE MALATE
Citrulline is a precursor of Arginine and an integral part of the NO cycle. When co-ingested, Arginine and Citrulline work synergistically to support Nitric Oxide production, promoting amplified vasodilatation—increased blood flow support, nutrient delivery, and promotes long-lasting muscle pumps.*
L-NORVALINE
Norvaline is an amino acid that diminishes the body's ability to limit Nitric Oxide production. Norvaline limits Arginase, an enzyme that interrupts NO synthesis by breaking down Arginine in the body. Norvaline binds to and inhibits Arginase, increasing Arginine levels, thereby supporting increased NO.*
L-LEUCINE
Leucine is an essential branched-chain amino acid critical to supporting muscle-building and recovery processes.* Leucine stimulates muscle protein synthesis and preserves glycogen stores, promoting lean mass gains, physical energy stores, and providing support against muscle breakdown.*
Leucine is a limiting nutrient and is required by the body to utilize nutrients from food and dietary supplements such as protein and other amino acids.
L-ISOLEUCINE
Isoleucine is a branched-chain amino acid that supports endurance and expedites muscle tissue repair.* Isoleucine works to promote positive and stable energy levels.*
BIS(PICOLINATO) OXOVANADIUM
Oxovanadium works to support increased glucose uptake and glycogen synthesis in the muscles, which may help promote nutrient absorption and amplify muscle pumps.*
METHYLTYRAMINE
Methyltyramine is derived from the amino acid tyrosine, and supports the release of Dopamine, Norepinephrine, and Epinephrine.*
CINNAMON BARK EXTRACT
Cinnamon Bark Extract contains powerful antioxidants to support healthy cardiovascular function and cognitive function.* Cinnamon has been clinically suggested to promote healthy cholesterol levels already within a normal range, support increased focus and muscle pumps.*
SYNEPHRINE HCL
Synephrine is a powerful adrenergic stimulator that supports energy levels and ATP synthesis. The compound supports adrenaline stimulation and promotes weight loss by amplifying fat burning, metabolism, and thermogenesis.*
CAFFEINE
Caffeine is a powerful psychoactive stimulant.* Caffeine stimulates the central nervous system, warding off fatigue and promotes increased alertness and energy levels.*
L-VALINE
Valine is a branched-chain amino acid that promotes endurance and expedites muscle tissue repair.* Like Isoleucine, Valine works to help promote positive and stable energy levels.*
THEOBROMINE
Theobromine is derived from the cacao plant and is a mild, natural compound with effects that mimic caffeine.
UNPARALLELED LABEL TRANSPARENCY
Cellucor has set another industry first by drastically improving label transparency. Beginning with the "Chrome Series" line, Cellucor has clearly labeled all key ingredient amounts - no more confusing proprietary blends, no more wondering what you're actually taking. It is our firm belief that greater information accessibility will allow us to deliver greater results.