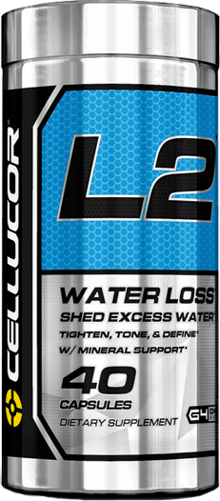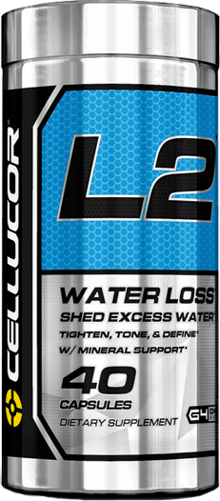 The Weight You Want to Lose Falls Into Two Categories: Water and Fat
Water is an always present component in our bodies, stored between the skin and the muscles. Muscle tone and definition are compromised due to water retention: whether it be a photo shoot, competition, wedding, vacation, or simply to kick start a new diet/weight loss plan, you need immediate results, a supplement that delivers the tight, hard look you want, NOW.*
Fat loss requires time; a fusion of hard work and patience, whereas water weight can be shed quickly.*
---
Cellucor's Quick Fix, L2 Extreme
Cellucor's L2 Extreme is one of the strongest diuretics on the market, quickly ridding the body of excess water weight while supporting the maintenance of sufficient vitamin and mineral levels.*
---
Our Strongest & Safest. Period.
L2 Extreme also provides beneficial antioxidant support, and increases basal metabolism to kick start fat loss.* L2 Extreme is 100% Stimulant-Free, and is designed to work either by itself, or synergistically with Cellucor's other weight loss products.
L2 Extreme Ingredients
PRICKLY CHAFF FLOWER EXTRACT
Prickly Chaff Flower Extract is naturally derived from a shrub that grows throughout India. Prickly Chaff is a strong diuretic that has been suggested to support urinary tract health.*
UVA-URSI EXTRACT
Uva-Ursi is a plant commonly called Bearberry. Uva-ursi extract contains arbutin, a natural compound with strong diuretic properties.*
SUPEROXIDE DISMUTASE (SOD)
Superoxide Dismutase is an enzyme that plays a supportive role in antioxidant protection.* SOD may be an effective antioxidant against superoxide.*
L-TAURINE
L-Taurine is an amino acid that supports healthy blood pressure already within normal range and supports against muscular fatigue.* L-Taurine promotes healthy metabolism and fat cell metabolism, and provides antioxidant support.*
DANDELION EXTRACT
Dandelion Extract contains powerful diuretic compounds called taraxasterols that support the secretion of excess water.* Dandelion is one of the most popular natural diuretics.
MAGNESIUM ASPARTATE
Magnesium Aspartate is a magnesium salt that acts as catalyst in all metabolic reactions that involve ATP (Energy).* Magnesium is an essential mineral necessary for energy production and transport and supports protein synthesis, bone growth, flexibility, and the maintenance of the pH of various organ systems.* L2 Extreme contains Magnesium Aspartate to help support the body's stores—intracellular magnesium loss is a known side effect of diuretic supplements.*
POTASSIUM ASPARTATE
Potassium Aspartate is a potassium salt that is essential for promoting fluid and electrolyte balance throughout the body.* Potassium is an essential mineral responsible for a wide variety of metabolic functions. As an electrolyte, it aids in the maintenance of enzyme structures and fluid balance.*
VITAMIN B6
Vitamin B6 is essential in balancing sodium and potassium levels in the body and also responsible for the production of monamine neurotransmitters such as adrenaline, serotonin, and dopamine.*
FOLIC ACID
Folic acid is a water-soluble B-vitamin that promotes positive mood and healthy energy levels.* Folic acid also supports healthy cell formation and repair.*