Quick Links to Our Prices
How does this work and how do stores get listed? See our disclosure below to learn more. Price History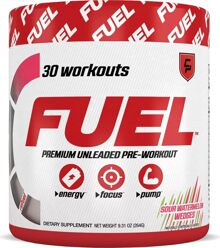 With CP FUEL we take the experience very seriously. From the minute you lay eyes on it, you see a bottle with a transparent gauge to show how much FUEL you have left. This transparent look became a theme of the product which led to the fully disclosed formula. The flavors of FUEL are unmatched. When you pick a flavor, expect to love it so much that you want to sip on it all day.
Is this the greatest pre workout ever created? We think so... but on a more serious note, it may be the best pre workout for college students nationwide. As far as ingredients our formula is all time. This product is for people living the college lifestyle which is exactly how we tested its effectiveness. You won't be disappointed.
The Flavors:
Blue Raspberry - This flavor is a classic. We knew when launching FUEL that some of you needed something familiar to give FUEL a try. Our Blue Raspberry is an updated version of a flavor everyone attempts. Adding our signature carbonation effect, as well as decreasing the overbearing flavor, this is the perfect everyday flavor!
Jungle Juice - A CP original and instant classic! Jungle Juice is based on a real Jungle Juice formula (minus the alcohol) from one of our founders. Just to give you an idea of how authentic it is, we literally bought the ingredients, including Hawaiian punch and Sprite, mixed up the Jungle Juice formula, and worked tirelessly to match it in pre workout form. The results speak for themselves as Jungle Juice is one of the best selling flavors and people can now enjoy their favorite delicious beverage, without the hangover. ;)
Orange Soda - Orange Soda was a risky flavor for us but the results were amazing. We knew we wanted to do an orange flavor however a GOOD regular orange flavor was hard to find in the industry. The flavors we came across were a bit too intense or lacked an X factor to make them stand out. We decided to try something new and incorporate our carbonation effect. That's when the idea of Orange Soda came into the picture. We tested all different types of sodas, and finally found some key commonalities in your favorite childhood beverage. The results were FUEL Orange Soda and it really is amazing. That same great flavor but guilt free with zero sugar and calories. This isn't officially disclosed but we're pretty sure Kel would approve of our version of Orange Soda.
Grape Soda - What happens when CP creates your favorite childhood soda flavor in pre workout form? We do it again with your second favorite childhood soda flavor, Grape Soda. With the success of Orange Soda, we knew we had to give the people what they wanted. A true Grape flavor that you can enjoy sipping in and out of the gym. That's exactly what we did, with a Grape flavor that you can enjoy guilt free but isn't too overpowering so you can enjoy all day!
The Formula
CP tackled 5 aspects of a Pre Workout with this Formula -> Energy, Strength, Stamina, Focus, and Pump.
Energy: Fuel has 180mg of caffeine in its formula. This may sound random but its carefully chosen due to the nature of college students and their broad array of pre workout usage. Its perfect for someone who does not want a full scoop and only wants 90mgs of caffeine (half scoop). Its also perfect for that stim junkie that wants to double scoop. 360mgs of caffeine is not too overwhelming and will not overpower you. If you are a three scooper, go home...you're drunk and crazy
Strength: Fuel has the most proven strength improving ingredient on the market, creatine. We went one step further and used the most proven form of creatine..creatine monohydrate. The next aspect of this formula was to increase the uptake of creatine in the body using the ingredient Betaine. Betaine and Creatine will improve recovery time, strength, and increase muscle mass.
Stamina: We all know that famous tingling effect from pre workouts...what some people don't know is that there is one ingredient that causes it - Beta-Alanine. This is actually buffering the lactic acid buildup in your body so that you can workout harder and longer. The problem is that when pre workouts have too much beta-alanine, it ruins the workout. CP Fuel uses 1.2g of Beta-Alanine which is just enough for you to feel it but not be too much. We also added the ingredient Niacin to heat up the body for preparation of a great workout and amplify the Beta-Alanine effect.
Focus: This is the first aspect of Fuel where you notice a BIG difference. Once you finish sippin FUEL, you will notice tunnel vision beyond belief. You may be 30 minutes into your workout and not notice one other person in the gym due to being so focused. We used tyrosine, taurine and B-Phenyl together to really get you zero'd in.
Pump: FUEL really gives you a one-of-a-kind experience in the aspect of its pump. The experience is different from any other pre workout in its category, causing it to be a true game changer. One scoop of Fuel will be enough to fill your muscles up with so much blood flow that everyone will notice. The pump is for real with this product by using a very precise ratio of the proven Arginine, Citrulline, and Norvaline. In today's time, everyone is looking at formula to see "how much" you have in regards to pump ingredients, but we do not believe that. CP believes in the right combination of proven ingredients that deliver results. It took us 6 tries to get the right ratio but this formula is the proof that we GOT IT. Arginine is proven to produce nitric oxide and citrulline is a precursor of arginine in the body so they were the obvious choices. The next ingredient is really what makes this pump special. Norvaline, which is what we believe to be the mastermind behind the pump is what amplifies the uptake of these ingredients. After you take one scoop you will know exactly what we mean.
Nutrition Facts