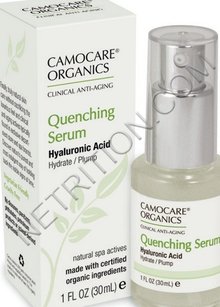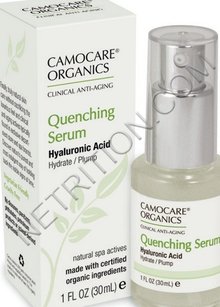 Quenching Serum Overview

Give dry skin a one two punch with Quenching Serum from Camocare. First this super moisturizing serum uses Hyaluronic Acid to firm and plump up your skin at the surface by absorbing more than 1000 times its weight in water.

Going deeper, the patented Petavitin carbohydrate complex works within your skin to grab onto moisture and keep it there. Pentavitin is designed to keep your skin moist even when other moisturizers fail: in dry conditions, while traveling, during outdoor sports, after washing, etc. If your skin starts to feel tight and dry while you're wearing during the day, Quenching serum is even effective when applied over makeup. Keep your skin at its peak all day with Quenching Serum.
Quenching Serum Description from CAMOCARE
-Hyaluronic Acid
-Hydrate
-Plump

Quenching Serum

Expirence the ultimate in skin hydration. This light, non-oily serum has two mechanisms for flooding your skin with moisture and helping eliminate the tight dry feeling caused by dehydration.

1. Hyaluronic acid helps attract and retain moisture along the skin surface absorbing more than 1,000 times its weight in water.

2. Pentavitin (a patented carbohydrate complex) helps bind and retain moisture within the skin.

Together, these two hydrating mechanisms increase the appearance of skin volume and density, and help preserve the three critical attributes of youthful-looking skin: suppleness, elasticity, and tone.
Ingredients:
Aloe barbadensis (aloe vera gel), sodium hyaluronate (from sugar), water, sd alcohol), saccharide isomerate (pentavitin from wheat), punica granatum (pomegranate) seed extract, lavandula angustifolia, , matricaria recutita flower extract, helanthus annus (sunflower) seed oil, althaea officinalis (marshmallow) extract, Cydonia oblonga (qunce) extract, hypericum perforatum (st. johns wort extract, ascorbic acid (vitamin c), carthamus tinctorius (safflower) seed Oil Hydroxyethylcellulose.
Manufacturer's Directions
Shake well before use. Mornings and evenings apply small amount to face and neck. For best results, apply after using CamoCare Organics Gentle Soy Cleansing Milk and Treatment Toner. Can also be used anytime over makeup when skin feels tight and dry. Especially useful during travel and outdoor sports.
Manufacturer's Disclaimer
For external use only. Avoid contact with eyes. Stop use if irritation occurs. Keep out of the reach of children.