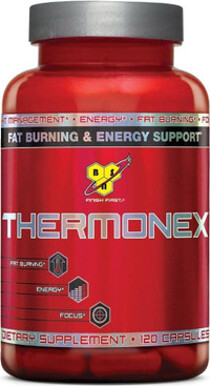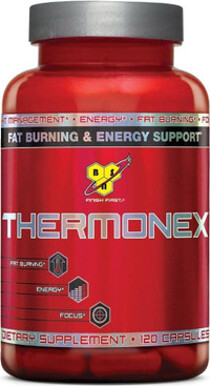 Designed to Support and Enhance:
Calorie Burning and Weight Loss*
Energy Levels*
Physical Performance*
Thyroid Function*
Appetite Control*
Mental Alertness and Acuity*
Thermonex is BSN's original and time-tested energy increasing and fat loss amplifying formula. Along with its beneficial calorie burning and weight loss effects, Thermonex can also enhance physical performance, promote mental alertness and acuity, suppress appetite and regulate thyroid function. All this, in the absence of the common 'crash' seen with some other similar-type supplements.*
Why Thermonex?
Thermonex is an energy and weight management dietary aid whose time-tested formula works to support fat metabolism while also promoting mental alertness and performance. It boasts a combination of caffeine and other methylxanthines along with other bio-active ingredients that work synergistically to support energy levels and physical performance as well as promoting thermogenesis. This formula provides optimal metabolic support to achieve long-term weight management success, while also functioning as a perfect pre-training energy boost to really fire up a workout.*
Also of note is the fact that the Thermonex formula is designed to avoid the signature energy drop that usually comes with stimulant-based supplements. Users of Thermonex are able to support their fat-burning potential and promote overall daily performance while side-stepping many of the usual pitfalls.*
Anyone looking to give their fat-shedding or body-sculpting efforts a boost need look no further than Thermonex. Whether you're just beginning your journey toward a leaner, healthier body, or you're a fitness veteran trying to maintain a toned, muscular physique, Thermonex can be the metabolism-supporting tool you need to succeed. For anyone looking to gain an edge in their training, dieting, or daily performance, Thermonex offers the ideal formula for achieving clear, satisfying results.*
Thermonex Ingredients
Caffeine: Caffeine increases superficial energy levels, curbs appetite, enhances mental sharpness and alertness, improves neuromuscular performance and stimulates thermogenesis.*
Green Tea Extract: Working in cooperation with caffeine, the catechins found in green tea stimulate thermogenesis and the oxidation of fat. Green tea also possesses antioxidant attributes.*
Yerba Mate: A coffee alternative in South America, it is a source of caffeine and may amplify the effects of the other methyxanthines.*
Octopamine HCL: A biogenic amine used to support and increase the thermogenic properties of caffeine and green tea.*
Evodiamine: A non-pungent vanilloid receptor agonist and one of several alkaloids found in Evodia Rutaecarpa, Evodiamine has been found to lower body fat by energizing thermogenesis.*
Synephrine: A biogenic amine used to support and enhance the thermogenic attributes of caffeine and green tea.*
L-Tyrosine: A conditionally essential amino acid and precursor to the catecholamines (epinephrine, norepinephrine and dopamine). The ingestion of caffeine releases these catecholamines, which are involved in the control of neuromuscular performance, alertness, focus and mood. Renourishment of these catecholamines through tyrosine supplementation prevents a "crash" from ingestion of caffeine.*
Iodotyrosine: An iodinated form of tyrosine used in the synthesis of thyroid hormones.*
Diiodotyrosine: An iodinated form of tyrosine used in the synthesis of thyroid hormones.*
Naringin: Found in citrus fruits and other plants, this bioflavonoid is used to extend the activity of caffeine and other methylxanthines. The addition of Narginin prevents the user from experiencing the typical "crash" associated with a caffeinated weight-management product.*
Thermonex Frequently Asked Questions
Can Thermonex be used by both men and women?
Thermonex was designed specifically for men and women. The thermogenic matrix in Thermonex works just as well at reducing weight for women as it does for men.*
Does Thermonex work for everybody?
Thermonex was designed to support weight management and energy levels. Although everybody reacts different to supplements, most people should notice a difference within the first week of taking Thermonex.*
Is Thermonex associated with any negative side effects?
Thermonex does not tend to cause any side effects. Some people may experience increased heart rate from the caffeine and other stimulants found in Thermonex.