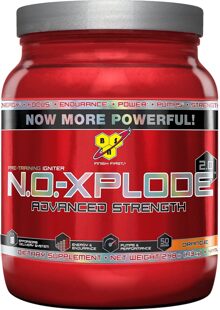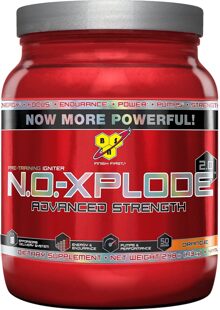 N.O.-Xplode 2.0 - Advanced Strength Overview

BSN N.O. Xplode 2.0 Advanced Strength is a revolutionary new pre-workout powder that's much more concentrated and potent than the original N.O. Xplode. If you liked the original N.O. Xplode, then you're going to absolutely love N.O. Xplode 2.0. It's twice as strong, twice as potent and will get you energized and pumped like never before. Seriously, this stuff is really strong and was not designed for amateurs. It contains more of the active ingredients found in the original formula with all new compounds that were not commercially available. Simply put, N.O. Xplode 2.0 represents the pinnacle of creative innovation in powerful pre-workout nutrition.

BSN N.O. Xplode 2.0 is loaded with key electrolytes and insulin optimizing ingredients to help pump your muscles full of nutrient rich blood and water. Just a single serving provides enough nitric oxide inducing ingredients to make way for some of the largest pumps you've ever experienced in the gym. To give you focus and mental acuity, BSN included the Ener-Tropic Xplosion blend full of tyrosine, taurine, glucorunolactone, caffeine, lesser periwinkle, vinpocetine, vincamine and vinburnine. This blend will keep you going and going until someone forcefully drags you out of the gym. It's seriously that good.

N.O. Xplode 2.0 also utilizes the Meta-Fusion blend of AAKG, citrulline malate, l-histidine, NAD and gypenoside containing herbs to literally light your nitric oxide producing mechanisms on fire. As if it couldn't get any better, the Glycerol Polymer Complex found in N.O. Xplode 2.0 contains three well-researched types of glycerol to further help your body utilize water and produce powerful muscle pumps in the gym. Once you take N.O. Xplode 2.0, there's just no slowing down. If you're looking for the absolute best in pre-workout sports nutrition, BSN N.O. Xplode 2.0 won't disappoint you.
N.O.-Xplode 2.0 - Advanced Strength Description from BSN
Whether it's muscle and strength that you're after or improved endurance and overall performance, BSN knows you're out there, day after day, pushing yourself to the edge in order to get one step closer to your goal. Whatever your endgame, you deserve a complete pre-workout igniter that can keep pace. BSN has answered the call with its most powerful formula yet, equipping athletes everywhere with the tools to achieve real progress and push past previous limitations. Experience the new strength of a legend - experience ADVANCED STRENGTH N.O.-XPLODE 2.0, the extreme pre-training energy & performance igniter. N.O.-XPLODE 2.0 is designed to support:

-Strength and Endurance
-Energy
-Muscle Growth
-Alertness and Focus
-Nitric Oxide, Pumps and Vascularity
Supplement Facts
Service Size: 22.5 grams
Servings Per Container: 50
Ingredient
Amount
% Daily Value**
Calories
40
Total Carbohydrates
10g
3
Sugars
0g
Vitamin B6 (as Pyridoxine HCL)
20mg
1000
Folate (Folic Acid)
300mcg
75
Vitamin B12 (Cyanocobalamin)
120mcg
2000
Calcium
65mg
7
Phosphorous
175mg
18
Magnesium
55mg
14
Sodium
350mg
15
Potassium
85mg
2
N.O.-Xplode 2.0 Proprietary Blend
19.6g
-Advanced Strength & Performance Matrix
--Modified glucose polymers (maltodextrin), beta-alanine (CarnoSyn)
--Di-creatine-malic acid interfusion, betaine HCl, sodium bicarbonate
--creatine-Sodium Phosphate matrix,
--Creatinol-O-Phosphate-Malic Acid Interfusion, Glycocyamine, Creatine Ethyl Ester HCL
--Guanidino Propionic Acid, Cinnamon Extract (Bark) (Cinnulin PF), Ketoisocaproate Potassium
--Creatine-Alpha-Aminobutyric Acid Matrix (Creatine AAB)
-Ener-Tropic Xplosion
--L-Tyrosine, Taurine, Glucuronolactone, Methylxanthine (Caffeine)
--L-Tyrosine-Alpha Ketoglutaric Acid, MCT's (Medium Chain Triglycerides)
--Lesser Periwinkle (95% Vinpocetine, 98% Vincamine, 98% Vinburnine [Whole Plant])
-N.O. Meta-Fusion
--L-Arginine-Alpha Ketoglutaric Acid, L-Citrulline-Malic Acid Interfusion
--L-Citrulline-Alpha Ketoglutaric Acid, L-Histidine-Alpha Ketoglutaric Acid
--NAD (Nicotinamide Adenine Dinucleotide), Gynostemma (90% Gypenosides) (Leaves & Stem)
-Phospho-Electrolyte Composite
--Di-Calcium Phosphate, Di-Potassium Phosphate, Di-Sodium Phosphate
-Glycerol Polymer Complex
--Potassium Glycerophosphate, Magnesium Glycerophosphate, Glycerol Stearate
** Percent Daily Value is based on a 2000 calorie diet. Your daily values may be higher or lower depending on your calorie needs.
† Daily Value not established.

Contains Milk, Coconut and Soy (Lecithin) ingredients.

Manufactured on equipment which processes products containing milk, egg, soybeans, shellfish, fish oil, tree nuts and peanut flavor.

Ingredients:
Other Ingredients: Citric Acid, Natural & Artificial Flavors, Vegetable Color, Potassium Citrate, Sucralose, Acesulfame Potassium and Calcium Silicate.
Manufacturer's Directions
DESIGNED FOR: Healthy adults 18-50 years of age seeking to support energy, performance and muscle development during resistance exercise or other forms of fitness training.

DIRECTIONS TO ASSESS YOUR TOLERANCE: As a dietary supplement, begin by consuming 1 scoop of N.O.-XPLODE 2.0 mixed with 5-6 oz of cold water. Vary the amount of water to achieve your desired flavor and sweetness level. Wait 30 minutes to assess your tolerance. If appropriate, after 30 minutes consume an additional 1 scoop mixed with 5-6 oz of cold water and assess your tolerance again.

DIRECTIONS: Once your tolerance has been assessed, mix 1-2 scoops with 5-12 oz of cold water and consume 30-45 minutes before training. If desired, for maximum effect use a third scoop at least 3 hours after using the initial 2 scoops. Do not take more than 2 scoops at a time and do not exceed 3 scoops in one day. Use approximately 5-6 oz of water per 1 scoop of powder. Again, vary the amount of water to achieve your desi
Manufacturer's Disclaimer
While mixing N.O.-XPLODE 2.0 do not shake! Stir powder with utensil.

Not for use by those with pre-existing medical conditions or taking any medications, those under the age of 18 or over 50, women that are pregnant or nursing, or those that are caffeine or beta-alanine sensitive. Excessive caffeine may cause nervousness, sleeplessness, and occasional rapid heart rate. Always begin use with 1 scoop or less mixed with water and assess your tolerance. Do not consume more than 3 scoops per day or within 4 hours of bedtime.

Approximately 225 mg of caffeine per serving.