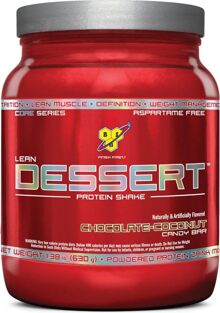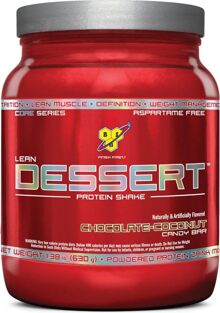 Lean Dessert Protein Product Highlights:
Sustained Release (7 Hours of Amino Acid Nitrogen Delivery)
Multi-Funcitional A.M.-P.M. Protein Blend
6 Different Ultra-Premium Proteins
Active Protein Utilization Enzymes for Increase & Efficiency of Use*
BCAAs and Essential and Non-Essential Amino Acids
Medium Chain Triglycerides for Fast Burning Energy Source*
Glutamine Peptides
Aspartame Free
Lean Dessert Protein, or LDP as it is affectionately called for short, is a protein-based supplement perfect for weight management, calorie-restricted and/or low carb diets. Every serving of LDP creates a thick, delicious and rich, flavorful shake that will help you take control of your appetite, while continuously pumping your body with important amino acids and glutamine peptides for up to 7 hours. LDP has also been fortified with Medium Chain Triglycerides (MCT's) and Essential Fatty Acids (EFAs) for fast, usable fuel, which is ideal for keeping a stable energy level, whether you're on a high or a low carbohydrate diet. Forget the meal; just have your dessert - Lean Dessert Protein that is!*
Lean Dessert Protein is Designed to Support:
Muscle Growth and Enhancement*
Muscle Protein Synthesis*
Low-Calorie, High-Protein Source All Day*
Recovery*
Weight Management*
Nutrition
Why Lean Dessert Protein?
Lean Dessert Protein is an ultra-premium low-calorie protein supplement, ideal for maintaining protein intake during calorie-restricted or low-carb dieting. Maintaining sufficient protein intake is essential for building and maintaining lean muscle mass. With Lean Dessert Protein, you get 21 g of ultra-premium protein per serving, with only 8 g of carbs and 3.5 g of fat. And this high-quality source of protein comes delivered with BSN's exclusive flavor technology, producing thick, delicious, dessert-like shakes that will help keep your muscles fueled and your hunger satisfied.*
Any individual who wants to feed their muscles with quality amounts of ultra-premium protein with minimal additional calories need look no further than Lean Dessert Protein. When you're in need of lean protein supplementation, Lean Dessert Protein is the ultimate source of long-lasting, low-calorie satisfaction.*
LEAN DESSERT INGREDIENT PROFILE
Lean Dessert Protein Proprietary Protein Matrix:
Ultra-Filtered Whey Protein Concentrate (1-2 hour digestion rate)
Microfiltered Whey Protein Isolate (1-2 hour digestion rate)
Egg Albumen (2-3 hour digestion rate)
Milk Protein Concentrate (4-6 hour digestion rate)
Calcium Caseinate (6-8 hour digestion rate)
Micellar Alpha and Beta-Caseins and Caseinates (6-8 hour digestion rate)
Each of Lean Dessert Protein's proteins offer an original and complimentary profile of amino acids and absorption rates, helping to ensure that your muscles never deplete of protein building blocks.*
Sustained-Release Multi-Functional Micellar Protein Matrix: Contains fast and slow digesting proteins, which lifts the circulation of amino acid nitrogen levels for up to 7 hours.*
Glutamine Peptides: Glutamine peptides function as an effective and stable form of glutamine for maintaining whole-body glutamine supplies.*
Bioactive Protein Utilization Enzymes (Aminogen and Papain): Encourages optimum protein digestion and absorption, which increases uptake of amino acids by the muscle.*
MCTs (Medium Chain Triglycerides), and EFAs (Essential Fatty Acids): MCTs are a fast-burning energy source, much like a carbohydrate. They encourage the oxidation of fat over carbohydrate and help regulate appetite. EFAs (essential fatty acids) are not created by the body and must be consumed in order to prevent deficiency.*
Branched-Chain Amino Acids (BCAAs) and Essential and Non-Essential Amino Acids: Contains more than sufficient amounts of every amino acid required in the human diet.*
BSN's Exclusive Advanced Flavor Technology: A breakthrough in flavor technology that duplicates some of the most mouthwatering shakes you have ever tasted.