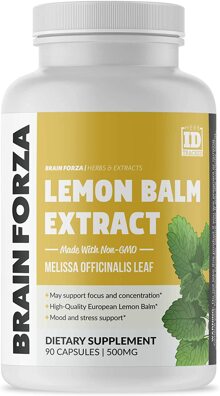 Brain Forza Lemon Balm Extract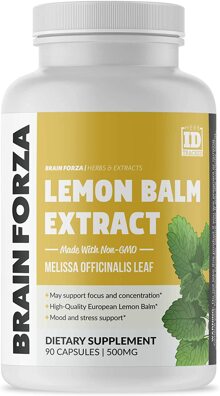 Brain Forza Lemon Balm Extract
EUROPEAN SOURCE: Our Lemon Balm extract capsules powder is sourced from Mediterranean regions of European where it has been cultivated for more than 2,000 years,

STRESS AND MOOD: Lemon Balm extract and Lemon Balm tea has been traditionally used to help support stress management and to improve mood.

ROSMARINIC ACID: Our Lemon Balm extract is standardized to rosmarinic acid, which may possibly support calmness without common drowsiness associated with Lemon Balm.

LEMON BALM TEA: Try something new, open the Lemon Balm capsules and empty them into hot or cold water to make Lemon Balm extract tea. It has a light herbal, bitter taste a bit stronger than typical tea taste, but we love it. (you can add sweetener to enhance)

QUALITY CONTROL: Non-GMO, Gluten-Free, Vegan, Kosher, and Halal. Made in a cGMP Certified facility in California.