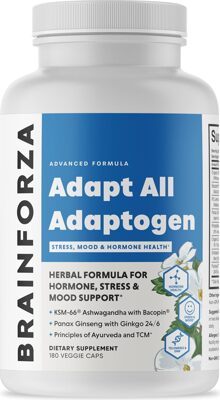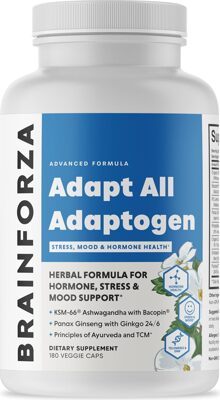 Brain Forza - Adapt All Herbal Formula - 150 Vegetarian Capsules
This herbal stress, mood and cognitive aid formula has been designed to help you feel and work better using principles of TCM and Ayurveda. Adapt All is here to help you battle stress, feel happier and improve overall cognitive performance. Preliminary studies on specific ingredients in this formula at the levels included have been shown to improve memory, learning, overall mood, stress resistance and more. This unique formula focuses on supporting healthy levels of two key neurotransmitters: Serotonin + GABA. Both are inhibitory neurotransmitters which help calm the central nervous system and are linked to positive mood, relaxation and improved cognitive performance.
Benefits of Adapt All:
Includes adaptogens for the body & mind
Includes KSM-66 Ashwagandha, Bacopa, + More
Principles of Ayurveda and TCM
Free of soy, gluten, & GMOs
Suitable for Vegetarians
Production

cGMP Manufactuer & FDA Inspected Facility
It's good to mention that all Brain Forza products are manufactured in accordance with cGMP guidelines in an FDA Inspected facility. Some of the safety standards include: testing all ingredients for contaminants, strict cleanliness and anti-contamination guidelines and procedures, qualified staff, a complete history of records is kept and more.
Sustainability
EPA Energy Star Building
Their manufacturing partner is part of the EPA Energy Star Program. EPA's Energy Star program stands alone as the most successful voluntary energy conservation movement in history. To save energy and protect the climate, the simple choice is Energy Star.
Print and Marketing Material
All of their marketing material is printed on Go Green! environmentally sustainable paper. This paper is a composite of post consumer fiber, recycled paper and virgin pulp derived from sustainably managed forests. These sustainably managed forests help to clean our air, control erosion, and provide environmentally friendly jobs.
About Brain Forza
Brain Forza is a Washington based formula-driven supplier of the best supplements and lifestyle nootropics.
Mission
To push the limit of human potential as measured by creativity, physical performance and cognitive performance through supplements, functional foods, and information.
They believe in the whole body approach. It is known that cognitive performance is directly influenced by the health of your immune system and gut bacteria. Therefore, in order to achieve maximized brain performance and maintain brain health, the whole body needs to be addressed.
Brain Forza: The Story
It all started out as curiosity. How could an element in nature change the body and the mind? What route did it take to do this? How did it do it? What actual change was happening in order to make things better (or in some cases worse)? Can they really make things better? Memory? Focus? Reverse cognitive decline? Do these brain supplements really work or is it just marketing?
Founder and President Greg Loukas spent 4 years researching. First reading Internet blogs from popular natural health writers. Then he "borrowed" (and never returned) his sister's Biology and Organic Chemistry textbooks. From there, he went further down the rabbit hole and taught himself to understand (pretty well) clinical studies. The real science in it's original state, before it's written up into an easy to digest press release or article.
What he learned was the problem was not with the science, but with the products being put out. He looked at the product market, all over the Internet you could find memory supplements, memory pills, brain pills promising to be the best brain supplement. He discovered the bad side of the industry……heavy under-dosing. You pay for the ingredient in a study, but receive only 1/10th of what was shown to work. Or, what's even worse, he noticed combo formulas having only 1 active ingredient at a proven serving size but charging a huge premium for all the other ingredients, even though you're really just getting one. That really got me fuming.
Greg is an absolute perfectionist and thought "Hey, people deserve better and I know I can do better", and BrainForza was born. Brain Forza promises to create some of the most unique products on the market and sell to only the best ingredients and formulas. Already, he could say their advanced formulas are arguably the most unique in the world, but hey, he's biased. You will also notice that they use the clinically proven version of an ingredient as often as possible and their advanced formulas contain usually at least three clinically proven versions of an ingredient.
He wants BrainForza to be the go-to company when you think of brain formulas, whether it be to support focus and concentration, memory, healthy aging, increase mental and physical performance during sports (they go hand int hand with the former usually being neglected in formulas), support mood and manage stress or another reason they have not yet addressed (send them suggestions! They listen!). They are dedicated to the science and as they grow, they hope to help change the industry and the lives of those using their products in a positive way.
Uncompromising Values
High Quality Materials
The materials used are just as important, if not more so, than the formula itself. You could have the best formula in the industry, but if your ingredients are poor-quality and non-functional, then what's the point? They purchase and test ingredients from the best suppliers around the world and only use the most active.
Industry Leading Formulas
It is their goal to make the best formulas on the market. They want to win awards. Months are put into researching ingredients and combinations. All their formulas are considered "on-going" so that modifications can be made as new information and/or ingredients become available. They get feedback from chemists, pharmacists, industry professionals and the online community on ingredients and formulations in order to make and perfect products to the users satisfaction.
Unique Combinations and Use of Ingredients
During their research process they weed out non-functional ingredients and use only ingredients that have been proven to work, or have a long history with many positive user reports that it cannot be ignored. Their team will then test the ingredient to make sure the desired result is achieved (test the formula by taking it).