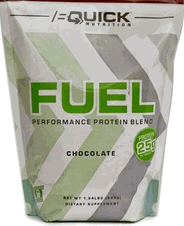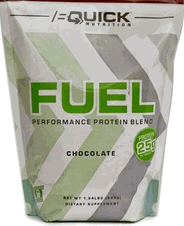 FUEL Performance Protein by BQuick Nutrition is a highly effective powdered drink mix delivering a whopping 25g protein and 2000mg of L-Glutamine per serving. This will help FUEL your muscles before, during, and after training as well as throughout the day. BQuick FUEL is made with all-natural ingredients and will help you build and maintain your lean muscle mass.

Nutrition Facts
Serving Size 2 Scoops (49 g)
Servings Per Container 18

Amount Per Serving % Daily Value

Calories 155

Calories from Fat 10

Total Fat 1 g 2%

Saturated Fat .5 g 2%

Cholesterol 25 mg 8%

Total Carbohydrate 11 g 3%

Dietary Fiber 5 g 20%

Sugar
Sugar Alcohols 2 g †

Protein 25 g 50%

Calcium 500 mg 50%

Magnesium 120 mg 30%

Phosphorus 300 mg 30%

Sodium 250 mg 10%

Potassium 500 mg 14%

L-Glutamine 2000 mg †

* Percent Daily Values are based on a 2,000 calorie diet.

† Daily Value not established.

Other Ingredients: (Dependent on Flavor) FUEL Blend of (Non-GMO Soy Protein Isolate, Whey Protein Concentrate and Whey Protein Isolate), Swerve Sweetener Blend of (Erythritol and Oligosaccharides), Fibersol (Corn Fiber), Dutch Process Cocoa, Natural Flavor, FOS-OligoFiber, Waxy Maize, Mannitol, MCT Oil, Flaxseed Meal Powder, Maca Root Powder, Beet Powder, Sambazon Açaí Fruit Powder, Lecithin, FUELzymeBlend of (Protease, Peptidase, and Ginger), Magnesium Oxide, Xanthan, Guar Gum, Sodium Chloride, Stevia Leaf Extract.

Contains: Milk and Soy

Directions: Mix two (2) scoops of BQuick FUEL for every 8-10oz of cold water or other liquid of choice. Mix it in a BQuick BlenderBottle blend in blender, or stir vigorously. Combine with a meal, take pre workout or post workout, or as needed to meet your daily nutritional requirements. Settling may occur. Store in a cool, dry place.

Allergen Warning: Manufactured on equipment which processes products containing milk, egg, soybeans, wheat, shellfish, fish oil, tree nuts, and peanut flavor.

These statements have not been evaluated by the FDA. These products are not intended to diagnose, treat, cure, or prevent any disease.

I-Supplements offers the lowest prices on BQuick Nutrition and other health and fitness accessories!