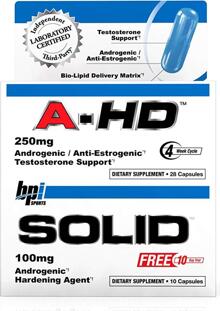 BPI Sports A-HD & SOLID Combo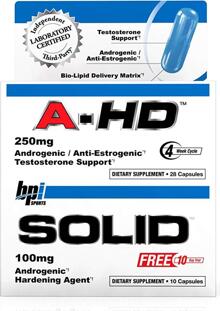 BPI Sports A-HD & SOLID Combo
Bpi A-HD 28 Caps with Free Solid 10 Caps
What is BPI A-HD?

Testosterone Booster. Anti-Aromatase. Advanced Bio-Lipid Delivery Matrix. Ultra-Concentrate Testosterone Booster. Arimedex HD-a novel compound Testosterone Boosting Agent. A shut down non-prescription, Anti-Aromatase Inhibitor. For Athlete Use Only. Arimedex HD is a Non-Prescription based formula intended to promote a Shredded. Harder. More Dry Looking Physique. It works by increasing free Testosterone Levels while minimizing Estrogens.
Proprietary Blend: (3s,4s)-4-[(3,4-dimethoxyphenyl)methyl]-3-hydroxy-3-[[3-methoxy-4-[(2s,3r,4s,5r, 6r)-3,4,5-trihydroxy-6-(hydroxymethyl)oxan-2-yl]oxy-phenyl]methyl]oxolan-2-one (2r,3r)-2,3-bis[(4-hydroxy-3-methoxyphenyl)methyl]butane-1,4-diol;(2r,3r,4s,5s,6r) -6-(hydroxymethyl)oxane-2,3,4,5-tetrol (s)-5-hydroxy-1-(4-hydroxy-3-methoxyphenyl)-3-decanone 4-[(e)-2-(3,5-dimethoxyphenyl)ethenyl]phenolphenethyl(e)-3-(3,4-dihydroxyphenyl)prop-2-enoate. Standardized Proprietary Phytochemical Complex: Cynara cardunculus; Curcuma longa; Capsicum annuum; Pelargonium graveolens.

A-HD Directions:
Take one (1) capsule daily, at the same time each day, or as directed by a qualified healthcare practitioner. For best results take four to eight (4-8) consecutive weeks (1-2) cycles). Do not take this product longer than 8 consecutive weeks. A four (4) weeks break between cycles is recommended.

Serving Size: 1 Capsule
Servings Per Container: 28

Niacin (as nicotinic acid, USP) 25mg 125%
Proprietary Blend 250mg
*percent Daily Values are based on a 2,000 calorie diet.
Ingredients:
Gelatin, Microcrystalline Cellulose, Magnesium Stearate, Silicon Dioxide, Hypromellose, Polyvinypyrrolidone, Maltodextrin.

*These statements have not been evaluated by the Food and Drug Administration. This product is not intended to diagnose, treat, cure or prevent any disease.

What is BPI SOLID?

Anyone that has ever lifted a weight, visited a gym, or read a muscle magazine from cover to cover knows exactly what I'm talking about...We've all seen that look. The one dude in the gym that's so freakin' lean and muscular that his skin looks like it's going to burst. So shredded and rock hard that you wonder what he's on. I'm talking about being so chiseled-to-the-bone that you know it didn't happen overnight. It definitely didn't happen eating egg whites and chicken breasts. It didn't happen doing hours of cardio. It took something a bit more drastic. Something a bit harder.

POWERFUL PROBOLIC STIMULANT AGENT

POTENT ANDROGENIC BINDING AGENT

PROMOTES HARDENING

PROMOTES DEFINITION

PROMOTES VASCULAR EFFECTS

BPI Sports SOLID Side Effects & Warnings: Not intended for use by persons under age 18. Do not exceed recommended dose. Do not take for more than 8 consecutive weeks. Get the consent of a licensed physician before using this product, especially if you are taking medication or have a medical condition. This product should not be taken by women. Do not take if you are pregnant, lactating or trying to become pregnant. Keep this product and all supplements out of the reach of children.

BPI Sports Solid Ingredients

SOLID Proprietary Blend 100mg
Borassus Aethiopum (Germinating Shoot)
Tulbaghia Violacea Harv. (Leaf And Rhizome)
Cynodon Dactylon (Aerial)

Other Ingredients:
Microcrystalline Cellulose, Gelatin, Silica, Magnesium Stearate, FD&C Blue No. 1, FD& C Red No. 40, And FD&C Yellow No. 6.