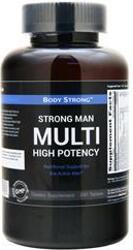 BODYSTRONG Strong Man Multi - High Potency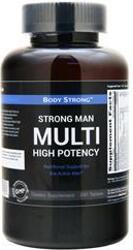 BODYSTRONG Strong Man Multi - High Potency
Strong Man Multi - High Potency Overview

Specially formulated for male bodybuilders and athletes looking for a high potency multivitamin, BodyStrong Strong Man Multi High Potency multivitamin provides essential vitamins and minerals, promotes immunity and general health, assists in muscle recovery and aids in sexual wellness and libido when taken three times per day.
BodyStrong's Strong Man Multi High Potency features a full spectrum blend of vitamins and minerals as well as two proprietary blends consisting of amino acids and herbs supporting optimal men's health. A blend of enzymes is calibrated for improved bioavailability and optimal absorption. Bromelain and papain helps the body digest nutrients, and a unique blend of muscle-building aminos and herbal adaptogens offers faster recovery of both the muscular and central nervous systems. The formula contains high concentrations of nutrients essential to men in particular, including B-vitamins, chromium picolinate, molybdenum and zinc.
Strong Man Multi High Potency is also a perfect multivitamin for everyday gym goers or active men simply looking to remain healthy and fit. L-arginine supports healthy blood flow and increased libido, a major factor in sexual wellness. All three branched-chain amino acids (leucine, isoleucine, and valine) are included for muscle maintenance and growth. L-theonine is also included to promote relaxation and stress reduction. *
This multivitamin also contains a robust men's herbal blend. These herbs have been added to support strength, health and libido, arguably three of the most important determinants of raw "manliness." Pygeum bark and saw palmetto, have both been shown in studies to protect the prostate and support sexual wellness in men. Panax ginseng and maca root are included for their libido enhancing properties. Stinging nettles extract is included for its anti-allergenic properties shown to protect against allergens that are encountered on a daily basis. It also contains green tea extract, ginkgo biloba, acai and goji berry extract, broccoli, beet root, cabbage and cauliflower leaf extract, all working together for balanced health and wellness. Overall, this potent herbal mix makes for a powerful duo when paired with the amino blend.
Green tea extract is high in antioxidants, helping flush your body of toxins and fighting cellular damage caused by free radicals. These antioxidants can also decrease inflammation and help reduce blood pressure, plus inhibit fat absorption in cells, reducing blood fat levels. It can even help with weight loss! Rich in catechins and caffeine, green tea extract helps enhance thermogenesis, the process in which your body burns calories to digest food and produce heat.
Nourish your body and your brain. Ginko biloba, another BodyStrong Strong Man Multi High Potency multivitamin is Ginko biloba. Ginko biloba helps with overall brain health and function. It improves memory, speeds up your synaptic responses, improves thinking and decreases frustration.
A multivitamin is one of the quickest ways to ensure your body is getting all the nutrients it needs. Think of it like an insurance policy against illness, injury and low-quality life. It is important that men take vitamins specifically designed for men, to avoid the increased iron levels in women's multivitamin.
Highlights
Ultra-premium high potency multivitamin for men
Daily provision of essential vitamins and minerals
Men's specific amino acid & herbal blend
Strengthened immune system
Increased libido and sexual wellness
Supports men's prostate health
Strong Man Multi - High Potency Description from BodyStrong
A high potency three-per-day multi vitamin and mineral with added amino acids, functional herbs, digestive enzymes and antioxidants for the active man.
Supplement Facts
Serving Size: 3 tablets
Servings Per Container: 60
Ingredient
Amount
% Daily Value**
Vitamin A (as retinyl acetate, 33% beta carotene)
2625mcg
291.7
Vitamin C (as ascorbic acid)
300mg
333
Vitamin D (as cholecalciferol)
25mcg
125
Vitamin E (as dl-alpha tocopheryl acetate)
27mg
180
Vitamin K (as phytonadione)
50mcg
41.7
Thiamin (as thiamine mononitrate)
50mg
4167
Riboflavin
50mg
3846
Niacin (as niacinamide)
50mgNE
312.5
Vitamin B6 (as pyridoxine HCl)
50mg
2941
Folate (from 400 mcg of Folic Acid)
680mcg
170
Vitamin B12 (as cyanocobalamin)
60mcg
2500
Biotin
300mcg
1000
Pantothenic Acid (as calcium pantothenate)
50mg
1000
Calcium (from dibasic calcium phosphate)
300mg
23
Iron (from ferrous fumarate)
27mg
150
Phosphorus (from dibasic calcium phosphate)
231mg
18.5
Iodine (from potassium iodide)
150mcg
100
Magnesium (from magnesium oxide)
250mg
60
Zinc (from zinc oxide)
50mg
455
Selenium (from sodium selenate)
75mcg
136.4
Copper (from cupric oxide)
2mg
222
Manganese (from manganese sulfate)
2mg
87
Chromium (from chromium chloride)
275mcg
786
Molybdenum (from sodium molybdate)
150mcg
333
Chloride (from potassium chloride)
90mg
3
Potassium (from potassium chloride)
99mg
2
Lutein
500mcg
†
Lycopene
500mcg
†
Boron (from sodium, potassium borate)
450mcg
†
Tin (from stannous chloride)
30mcg
†
Vanadium (from sodium metavanadate)
30mcg
†
Nickel (from nickelous sulfate)
15mcg
†
Silicon (from sodium metasilicate)
6mcg
†
Strong Man Proprietary Amino Blend
480mg
†
-L-Arginine Hydrochloride, L-Glutamine, L-Lysine HCl, L-Valine, L-Leucine, L-Isoleucine, L-Cystine,
-L-Threonine
Strong Man Proprietary Herbal Blend
420mg
†
-Maca (root) (lepidium meyenii), Ginseng, korean (root) (panax ginseng), Saw Palmetto (berry),
-Stinging Nettles (leaf), Pygeum (bark) (pygeum africanus), Green Tea (leaf) Extract, Ginkgo Biloba
-(leaf) Extract
Strong Man Proprietary Fruit and Enzyme Blend
480mg
†
-Acai (berry) Extract, Broccoli (flower) (brassica oleracea botrytis), Beet (root), Bromelain,
-Cabbage (leaf), Cauliflower (leaf), Goji (berry) Extract, Papain.
-Acai extract
-Broccoli
-Beet
-Bromelain
-Cabbage
-Cauliflower
-Goji extract
-Papain
** Percent Daily Value is based on a 2000 calorie diet. Your daily values may be higher or lower depending on your calorie needs.
† Daily Value not established.

Ingredients:
Other Ingredients: Cellulose, stearic acid, croscarmellose sodium, magnesium stearate, silicon dioxide, ethylcellulose.
Manufacturer's Directions
Adults, take 3 tablets a day.
Manufacturer's Disclaimer
If you are pregnant, nursing or taking any prescription medication, consult your doctor before use. Discontinue use and consult your doctor if any adverse reactions occur.

Accidental overdose of iron-containing products is a leading cause of fatal poisoning in children under 6. In case of accidental overdose, call a doctor or poison control center immediately.

Keep out of reach of children.

Store in a cool, dry place protected from light.