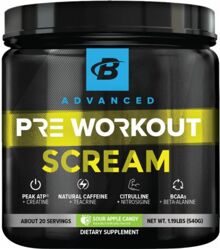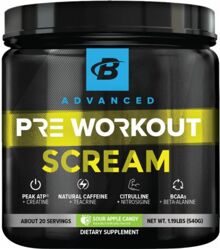 8g
BCAAs
3g
Citrulline
3g
Creapure
1.6g
Carnosyn
80%
Increased Key
Amino Acids Absorption*
Scream: Every other
pre-workout is just a whisper
The Answers Are In The Dosage: The Truth Revealed!
As you can see, at the effective dosages (ingredients in efficacious amounts), the competition's servings dwindle down and you are in need of another container all too soon! Don't be fooled!
Every athlete has a pre-game ritual. Thunder has lightning. Now, workouts have Scream: a potent, scientifically advanced pre-workout supplement.
Scream is a correction to under-dosed, over-stimulated pre-workout products built on proprietary blends and buzzwords. Scream isn't "ultra-concentrated;" it's effective. It fuels your workouts with nothing less than full, clinical doses of the best available ingredients. Scream offers more than energy; it hits your body with the nutrients needed to win every workout and maximize your results.
Dosage Double-Take
If you were to take a pre-workout product with the following common ingredients, you would need 7.6 grams for the main ingredients to produce a pump and help you build muscle:
Arginine: 3 g
Creatine: 3 g
Beta-Alanine: 1.6 g
Numerous products have 4-5 gram servings and call themselves "ultra-concentrated," yet you need 2-3 scoops to even approach the dosages required for muscle growth and skin-tearing pumps.
In order to grow, you need to fuel your training with a pre-workout supplement that will help increase your intensity; give you a pump; boost your strength; and support focus, endurance, and improved recovery. In short, you need a pre-workout like Scream.
Start Screaming
Scream isn't built on a proprietary blend. It contains no fluff, filler, or unnecessary glucose polymers - just researched ingredients at effective doses. To get Scream down to an affordable price, partnered with the leading patented ingredient manufacturers to offer our customers the best prices on the best ingredients.
As a result, you can now experience what a real pre-workout product is meant to feel like. Scream contains full doses of the ingredients you crave, all packed into a single-scoop serving:
(1 scoop serving)
BCAAs: 8 g
L-Citrulline: 3 g
Creapure: 3 g
CarnoSyn: 1.6 g
Taurine: 1.5 g
CarniPure: 1 g
L-Tyrosine: 1.5 g
Glucuronolactone: 500 mg
Sustamine: 500 mg
Caffeine Anhydrous: 300 mg
We are confident that once you experience Scream, you'll never want or need to look for another pre-workout product again.
Scream 6-Stage Pre-Workout Matrix
Stimulate and support protein synthesis*
Nitric Oxide (NO) pump*
Power and strength*
Improve recovery*
Optimize endurance*
Advanced hydration technology*
In the Bottle
Our R&D department formulated Scream with only the finest patented ingredients at the right clinical doses. To show our commitment to our customers, we offer full label disclosure. We don't hide anything, because we don't have anything to hide. We want you to understand every gram of this premium product.
8g BCAAs per scoop
Branched-chain amino acids (BCAAs) provide metabolic energy while you train.* While BCAAs play an important role in muscle growth, leucine has been shown to play the most critical role in stimulating muscle protein synthesis through multiple mechanisms of action, including mTor and P13K stimulation (protein synthesis regulators). Scream contains 4 grams of leucine to promote protein synthesis.*
Adios, Arginine!
If your pre-workout supplement has l-arginine as its main nitric oxide (NO) booster, it's time to ditch the old-school cocktail and try the pure l-citrulline difference.
NO is a cell-signaling molecule that takes part in regulating blood flow, oxygen delivery, glucose uptake, muscle firepower, and growth. Citrulline has been clinically researched to enhance NO levels better than arginine or arginine salts.* Studies suggest that citrulline increases the rate of ATP synthesis during exercise and greater phosphocreatine recovery after exercise.* Citrulline also reduces lactic acid and ammonia levels, which leads to better muscle performance and increased endurance.*
Know Your NO
NO is released when arginine converts to citrulline in blood vessles. NO causes the muscles of the blood vessels to relax, leading to greater blood flow.
Scream features pure citrulline as its NO booster because, quite frankly, it's better than citrulline malate or any form of arginine. It takes 6 grams of citrulline malate to deliver the same active ingredient amount of 3 grams of pure l-citrulline. L-arginine has to be taken in dosages of 12 grams to be as effective. Pure l-citrulline is 3 times more expensive than arginine and 2 times more expensive than citrulline malate. Despite its high cost, we use pure citrulline because it delivers maximum results.
Creapure Power
In a market that is always looking for new and improved products, there are now more than 20 different creatine derivatives sold commercially that promise better results than creatine monohydrate. The problem is, no scientific studies have been done on these new products that prove they enhance performance - unlike creatine monohydrate. Creatine monohydrate is one of the most researched dietary supplements available, being the subject of more than 300 studies.
For Scream, we wanted nothing but the best quality creatine available. It had to be supported by science, and, most importantly, it had to deliver unparalleled results.
A lot of creatine monohydrate or creatine salt products on the market use low-quality. Many of these generic creatines contain impurities due to improper manufacturing, causing increased levels of dicyandiamide, dihydrotriazine and creatinine.
Creapure, as its name states, is one of the purest forms of creatine available. It's a high-end performance product that can supercharge your workouts.
Creapure Purity vs. Competition (non-Creapure)
The manufacturing conditions and handling of raw materials are both crucial factors for determining the quality of creatine monohydrate. Inferior raw materials or, for example, a too-rapid reduction in the amount of water during "recrystalization" results in higher values, and therefore larger amounts, of creatinine, dicyandiamide, and dihydrotriazine.
> Quality Management > Consumer Protection
The specification of Creapure is subject to strict requirements. Creapure is tested for impurities using high pressure liquid chromatography (HPLC).
Typical analytical values for Creapure:
Creatine monohydrate: min. 99.95%
Creatinine: < 67 ppm
Dicyandiamide (DCD) < 30 ppm
Dihydrotriazine (DHT): not detectable
Enhanced overall performance
As a dietary supplement, creatine improves performance:
Up to 15% increased maximum power and endurance*
Up to 20% additional power with interval training*
Up to 30% power gain and energy release in the short-sprint range*
Up to 15% more for sprint repetitions*
You can have more efficient workouts with Creapure
Creapure: Pure Energy
The sole source of energy for all of the body's cells is adenosine triphosphate (ATP). During intensive exercise, the consumption of ATP in muscle tissue can increase twenty-fold in a few seconds. Available ATP is sufficient for only one or two seconds during maximum exertion. For this reason, creatine is important for muscle tissue to generate more ATP and deliver more power over a longer period of time.
It is best to stick with the certified and safe Creapure creatine monohydrate. When you see the Creapure logo, you see the highest quality and purest creatine on the market.
CarnoSyn: The Best Beta-Alanine
What is CarnoSyn Beta-Alanine and how does it work?
Beta-alanine is a non-essential amino acid. Beta-Alanine can be found as a component of a dipeptide in chicken and fish. In the body, beta-alanine is combined with the amino acid histidine to form carnosine. Muscle carnosine buffers the hydronium ions that lead to muscle fatigue and failure.
What does CarnoSyn Beta-Alanine do?
Studies suggest CarnoSyn Beta-Alanine supplementation can improve strength, endurance and recovery.*
What is the tingling sensation?
The tingling sensation that beta-alanine can cause in some people is called paresthesia. It is perfectly normal and often lessens or disappears after continued use.
Why CarnoSyn Beta-Alanine?
CarnoSyn is the #1 selling patented brand of beta-alanine in the world. More than 20 published studies support its use.
Scream features nothing but the best; CarnoSyn is the best beta-alanine.
CarniPure Promotes Recovery
Studies suggest that L-carnitine tartrate supplementation supports recovery after exercise.* Supplementation with L-carnitine tartrate provokes an increase in muscle oxygen consumption, providing a potential mechanism for reduced hypoxic stress following resistance exercise.*
L-Carnitine's role in exercise recovery
Sustained Endurance with Sustamine
A combination of l-glutamine and l-alanine (an amino acid needed for rebuilding glycogen stores), Sustamine is the result of a proprietary fermentation process that creates a true dipeptide for the efficient absorption of these amino acids in the body.
For endurance athletes and weekend warriors who want a natural way to start strong, Sustamine is the answer. This powerful dipeptide supports rehydration, energy replenishment and muscle recovery, delivering the endurance needed to cover long distances.*
How do dipeptides speed absorption and recovery?
A dipeptide is a bonded chain of two amino acids - in this case, l-glutamine and l-alanine.
Smaller than a complete protein, the dipeptide Sustamine is absorbed faster than individual amino acids.
To get into cells, dipeptides and amino acids must wait for a "transporter." A transporter can carry a single amino acid or a dipeptide through the cell barrier at once. By coupling for transport, dipeptides significantly reduce the time and energy needed for cellular recovery.*
Why a dipeptide?
Dipeptides are absorbed more efficiently than protein
Dipeptides do not require additional energy to break down bulky protein molecules
Dipeptides increase amino acid transport into cells for faster recovery
Dipeptides supply two amino acids for the energy costs of one
Dipeptides might be more stable and effective than single amino acids
Why combine L-Glutamine with L-Alanine?
Combined into a single dipeptide, L-Alanyl-L-Glutamine, Sustamine helps the body restore better than L-Glutamine or L-Alanine alone. Sustamine:
Supplies essential nutrients. Sustamine supplies the body with the needed protein precursors to rebuild muscle tissues after moderate and intense physical exertion.*
Replenishes energy stores. Sustamine helps top up low glycogen stores.* Studies suggest that L-Alanine may supply up to 45% of the glucose released from the liver during extended periods of exercise.*
Increases electrolyte and water absorption.* Studies suggest that L-Alanine and L-Glutamine combined may be more effective than L-Glutamine alone for increasing electrolyte and water absorption that is lost during exercise.*
Modulates immune response.* L-Glutamine has been suggested to efficiently modulate the body's immune response to exercise.*
Fights free radicals.* L-Glutamine and L-Alanine combined have been suggested to support the body's natural antioxidant defense against the oxidative stress free radicals produce.*
Increases product stability and quality. Research suggests that combining L-Glutamine with another amino acid to form a substrate is more stable and less subject to breaking down at high temperatures than L-Glutamine alone. Shelf life is extended and quality is enhanced.
2009 Nutrition Business Journal report: Sports Nutrition/Weight Loss Category.
Explosive Energy, No Overstimulation*
Scream contains the perfect balance of energy and performance, without overstimulation.* You can ignite your workout with 300 grams of pure Caffeine Anhydrous and wake up your neurotransmitters with 1500 mg of L-Tyrosine.*
Taste the Difference
All these amazing ingredients in Scream aren't much good if you can't chug it down. With all the ingredients included in Scream at clinical doses, it was not easy to flavor. We partnered with the industry's leading flavor houses to create an amazing taste profile. We weren't satisfied until we got the taste just right. You'll love the taste and how easily it mixes.
100% satisfaction guarantee
Scream is backed by 's 100% money-back guarantee. We know that Scream is the best pre-workout supplement on the market. If you don't agree with us, just return your bottle and we will give you your money back. It's as simple as that.
Don't let your next workout win. Transform your training. Start Screaming.