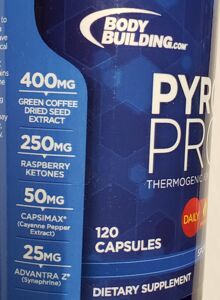 Bodybuilding.com Pyro Pro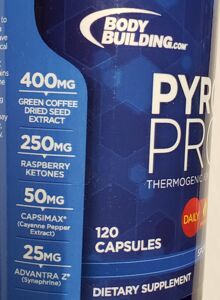 Bodybuilding.com Pyro Pro
pyro
Pro
400
Milligrams of
Green coffee
extract
250
Milligrams of
Raspberry
Keytones
Turn up the HEAT with Capsimax – cayenne pepper extract
Fire up your metabolism with patented Advantra Z
Shred Fat and Feel the burn from our new THERMOGENIC IGNITOR!
Product Details:
Sculpting your six-pack just got easier. Pyro Pro is a unique thermogenic igniter that will fire up your fat loss and push your heat dial into the red zone.*† Pyro Pro contains an exclusive, synergistic blend of five potent ingredients engineered to help you torch fat.*†
What Are the Key Ingredients in PYRO PRO?
Capsimax is an innovative and award-winning ingredient that is heating up the fitness industry. With Capsimax , you can enjoy the fat-burning benefits of capsicum—the active ingredient in hot red peppers—without burning your mouth. A growing body of research suggests that capsaicinoids are effective weight-loss tools.*† Unfortunately, to consume the necessary amount of capsaicinoids for weight loss, you can experience mouth and stomach irritation.
Thanks to OmniBead, Capsimax gets around the mouth burn and takes the heat straight to your fat.*† OmniBead is a patent-pending capsule technology that allows you to take advantage of the extraordinary thermogenic benefits of capsicum without suffering from the mouth and stomach burn that an unprotected hot red pepper can cause.
Green Coffee beans are simply coffee beans that have not yet been roasted. Coffee is typically made from roasted coffee beans, but the roasting process eliminates coffee's natural chlorogenic acid, a potent compound suggested to boost weight loss.*† As a result of roasting, brewed coffee isn't a good source of chlorogenic acid. Provided they contain at least 45% chlorogenic acid, green coffee supplements can help you burn fat.*†
Raspberry Ketone is the primary aroma compound of red raspberries. This compound regulates adiponectin, a protein used by the body to regulate metabolism. Raspberry ketone causes the fat within your cells to get broken up more effectively, helping your body burn fat faster. Research suggests that raspberry ketone can help in your weight-loss efforts, especially when paired with regular exercise and a well-balanced diet of healthy and whole foods.*†
Advantra Z is an extract of a citrus fruit (Citrus aurantium) that facilitates the utilization of energy substrates, stimulates metabolic processes, encourages the uptake of amino acids into muscle, increases lipolysis (the breakdown of fat), and can exert mild hunger-suppressant effects.*† Advantra Z has been extensively researched for over a decade and holds 16 world-wide patents for weight loss.
Caffeine Anyhdrous is the final ingredient in Pyro Pro. Caffeine supports thermogenesis and is included in Pyro Pro at an effective, jitter-free dose of 200 mg.*†
Pyro Power
Pyro Pro is cutting-edge, affordable, and effective. The formula is filler-free and stacked with powerful ingredients at full, effective doses. The synergistic blend will prime your body to use fat as fuel and send your metabolism into overdrive.*† In short, Pyro Pro will set fire to your fat. Can you handle the heat?
SPORTS NUTRITION
Here at , our goal is to help people like you meet your health, fitness and appearance goals through information, motivation and supplementation. We want you to have every possible tool at your disposal, so we constantly add more articles, videos, workouts, diet plans and transformation stories to our website. We've also developed a full line of our own nutritional supplements that—when combined with the right workout and nutrition program—will help you reach your goals. All products have been formulated to the highest standards with high-quality, effective ingredients that produce real results. If you aren't completely satisfied with any product, return it any time for a full refund.