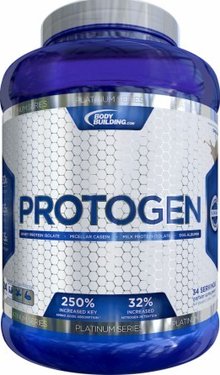 Bodybuilding.com PROTOGEN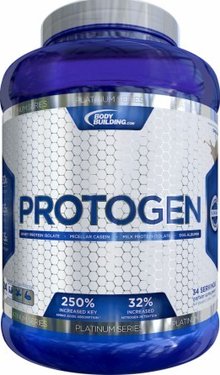 Bodybuilding.com PROTOGEN
30g
Protein
6.5g
BCAAs
1.5g
Aminogen
Pack on muscle and get stronger, faster with Protogen*
When it comes to building muscle, it's about more than what you eat: It's about what you absorb. In short, get ready to make more muscle.*
Protogen contains 4 ultra-premium protein sources and clinically-proven Aminogen, a revolutionary patented enzyme system that helps your body break down and digest protein faster and much more efficiently.* Aminogen helps maximize the amount of amino acids released from protein in foods and supplements, allowing you to absorb more muscle-building amino acids.*
What's the big deal about amino acids? They help you in 5 major ways:
Increase lean body mass*
Promote nitrogen levels*
Supports the reduction of body fat*
Supports muscle recovery*
Promotes delayed muscle fatigue*
Increasing your size and strength requires an adequate supply of amino acids. Since the human body doesn't produce branched chain amino acids (BCAAs), it's important to consume high-quality protein sources that are rich in BCAAs.
• Aminogen promotes glutamine availability, which aids in the transport of nitrogen and carbon within the muscle tissue to assist in post-workout recovery.*
• Aminogen liberates more BCAAs required for protein synthesis, which serve as a muscle fuel and promotes the delay of fatigue.*
• Aminogen promotes arginine availability, which supports greater fat loss.* Since arginine is a precursor of creatine, this greatly enhances the potential for creatine loading, this supports muscle size and strength.*
Each serving of Protogen contains the clinical dosage of patented Aminogen which is proven to:
Why get excited about Protogen?
The Research and Development Team at knows you put every effort into getting the results you want, so we put 18 months and countless dollars into creating the best protein powder possible with you in mind. Protogen is part of our Platinum Series, which is includes patented ingredients at clinical dosages. Protogen is simply the most scientifically-advanced protein supplement on the market.
The Perfect All-Day Protein Solution
Protogen's Synergistic 4-Stage Ultra-Premium Blend features fast-, medium- and slow-acting protein sources. Protogen is the perfect all-day protein solution for elite athletes because it is quickly absorbed with whey protein isolate and then released for up to 8 hours.* The ratio of fast and slow proteins ensures your muscles receive a stable flow of amino acids all day.*
Our Synergistic 4-Stage Ultra Premium Blend allows your body to quickly absorb amino acids and maintain peak blood concentration levels for up to 8 hours.*
Best Milk Shake Taste – Guaranteed
This is all great, but what does Protogen taste like? In a word – amazing! Our Research and Development Team partnered with one of the industry's leading flavor houses to develop a delicious flavor system. We took 4 months and 26 revisions to get our flavor target just right, and we actually exceeded our own expectations. The comment we heard most often during our blind taste test is that Protogen tastes like it was mixed with milk, when it was actually mixed with cold water. Imagine that! You won't be forcing down a horrible-tasting shake when you use mouth-watering Protogen.
When you make the smart decision to try Protogen, you won't regret it. We are so sure you'll be completely satisfied with this premium product that we're offering a 100% money-back guarantee. If you don't agree that Protogen is the best protein supplement you have ever used, simply send us back your bottle for a no-questions-asked refund. You won't have to worry about losing any of your hard-earned money if you are not completely satisfied – but we are sure you will be.