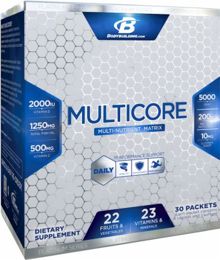 Bodybuilding.com MULTICORE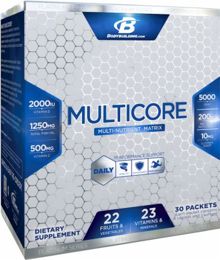 Bodybuilding.com MULTICORE
2000iu
Vitamin D
1250mg
total Fish Oil
500mg
Vitamin-c
5000
orac
200mg
pre- & pro-
Biotic Blend
10mg
Lutemax
2020
22
Fruits &
Vegetables
23
Vitamins &
Minerals
Multicore:
More than a multi, it's your ultimate safety net.
Full-body protection and performance support from a company you can trust* The harder you train, the more you care about nutrition. The harder you train, the more nutrients you need - and we know you train as hard as possible.
Eating the perfect mix of foods in the proper amounts each and every day is a big challenge; getting all the nutrients a hard-training individual needs from diet alone can be an even bigger one. Even with the best intentions, proper nutrition is often pushed out the window by the demands of a busy lifestyle. When you go out with your friends, you might be tempted away from healthy choices, or they might not even be available. Maybe you just don't have time to cook, or you don't like eating piles of fruits and veggies. Whatever the case, sometimes we all need backup to ensure our bodies receive ample nutrients they don't always get through food.
You know that a complete, well-balanced diet rich in fruits, vegetables, lean meats, complex carbohydrates, good fats, vitamins, minerals and antioxidants is a solid foundation for optimal health and performance. To ensure you fuel your body properly, we developed Multicore. Multicore is a premium performance multivitamin.* It provides a safety net when your nutrition is less than perfect, and it maximizes your hard work in the gym with a comprehensive blend of 23 vitamins and minerals.*
We went all the way to France to source Oxynnea, an exclusive combination of 11 Superfruits and 11 Vegetables, equivalent to 5 portions of fruits and vegetables and 5000 ORAC. This means it has high antioxidant power, which is important, especially when you put in a lot of hard training sessions.
Here's what you get with Oxynnea:
11 Superfruits
White Grape
Orange
Grapefruit
Bilberry
Papaya
Pineapple
Apple
Apricot
Cherry
Blackcurrant
Red Grape
11 Vegetables
tomato
carrot
green tea
Olive
Broccoli
Green Cabage
Onion
Garlic
Wheat Germ
Cucumber
Asparagus
This amazing blend is just the start. We were not content to stop there; we wanted to make this multivitamin stand out from the rest. Multicore gives you multiple benefits.
Each packet of Multicore contains:
22 Fruits and vegetables , equivalent to 5000 ORAC
500 mg of Vitamin C
2000 IU of Vitamin D for bone health and immune support*
200mg pre- and pro-biotic blend for healthy digestion*
1000 mg Omega-3 for heart and brain health*
10 mg of patented Lutemax 2020 lutein for healthy vision*
Beta-sitosterol to support healthy cholesterol levels already within a normal range*
Milk thistle seed extract to support liver health maintenance*
Each box of Multicore contains 30 packets. Each packet contains 4 tablets and 1 fish oil soft gel. That gives you one month of protection from a company you can trust.
Multicore is part of our Platinum Series, featuring clinical doses of patented ingredients.* Like every product in the line, Multicore is backed by a 100% money-back guarantee. If you aren't satisfied with Multicore, send it back and we'll refund your money.
When you take Multicore, you can rest assured that your body is getting what it needs to support your goals.* You won't be disappointed when you choose a multivitamin from a company that is committed to creating the highest-quality supplements to help you get real results. Why wait? Fill the gaps in your diet and order Multicore today!